Cargo Current Affairs, GK & News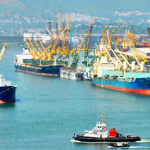 The Vishakapatnam Port Trust has recorded a growth rate of 10% for this fiscal year despite the economic slowdown and weak market conditions. The VPT is currently at the fourth spot among the major ports of India. The first three spots are held by the Kandla Port, Paradeep Port and the Jawaharlal Nehru Port Trusts. ..
Topics: Bay of Bengal • Cargo • Economy of India • Jawaharlal Nehru Port • Kandla • Paradip • States and union territories of India
The National Freight Index (NFI) has been launched by a technology-enabled logistics company Rivigo, which owns a fleet of over 3,000 trucks. The index aims to bring transparency and boost efficiency in the market. The NFI is the barometer of the road freight market in India and is based on Rivigo rate exchange, which gives ..
Topics: Cargo • Economy • Freight rate • Freight transport • Human activities • Logistics • Rail freight transport • Transport
The Inland Waterways Authority of India (IWAI) has launched a dedicated portal – Forum of Cargo Owners and Logistics Operators (FOCAL) – to connect cargo owners and shippers with real time data on availability of vessels. The landmark e-connect measure will enable direct interaction among the vessel operators, shippers and cargo owners as currently, there ..
Topics: Cargo • Freight transport • Goods • Inland Waterways Authority of India • Iwai • Ship • Transport • Transport law
In a major digital initiative to help plan the traffic flows and optimize freight operations, Ministry of Railways have launched Smart Freight Operation Optimisation & Real Time Information (SFOORTI) App for Freight Managers which provides features for monitoring and managing freight business using Geographic Information System (GIS) Views and Dashboard. With this application, movement of freight trains on Geographic Information System (GIS) ..
Topics: Cargo • Freight transport • Geographic information system • Rail freight transport • Rail transport • Train • Transport