Page-2 of
Carbon Current Affairs, GK & News
China has launched the world's first all-electric ship in Guangzhou in South China's Guangdong Province, which can travel up to 80km with 2000-tonnes cargo after a two-hour charge. The vessel, manufactured by the Guangzhou Shipyard International Company Ltd, is powered by a 26-tonne lithium battery. It can cruise at the top speed of 12.8 km ..
Topics: Battery electric vehicle • Carbon • Chemical elements • Chemistry • Electric boat • Fuel • Guangzhou • Marine propulsion • Physical sciences • Ship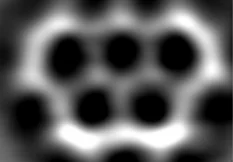 Olympicene is the name of a new organic carbon based molecule made up of five rings, of which four are benzene rings, joined in the shape of the Olympic rings. The molecule was conceived in March 2010 as a way to celebrate the 2012 London Olympics by Professor Graham Richards's former head of Oxford University's chemistry ..