Page-6 of
Cancer Current Affairs, GK & News
The World Cancer Day (WCD) is observed every year on 4th of February to spread awareness about cancer, its treatment and to encourage methods of its prevention. The aim of the day is to save millions of preventable deaths each year through education, raising awareness and by pressing governments and individuals across the world to ..
Topics: Cancer • Health • Medicine • Preventive healthcare • RTT • World Cancer Day
In India, the National Cancer Awareness Day (NCAD) is observed every year on 7th of November to remove all stops to lower the national cancer burden by generating awareness about early detection and avoiding leading cancer causing lifestyles. The main motto of the special day is to educate people on early detection & cure of ..
Topics: Breast cancer • Cancer • Causes of death • Epidemiology • Health • RTT • War on Cancer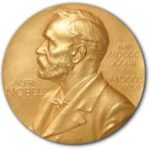 The 2018 Nobel Prize in Physiology or Medicine was jointly awarded to two immunologists James P. Allison (US) and Tasuku Honjo (Japan) for their discovery of Immune checkpoint therapy i.e. cancer therapy by inhibition of negative immune regulation. It was announced by Nobel Assembly at Sweden's Karolinska Institute. Significance of their discovery Both immunologists had ..
Month: Current Affairs - October, 2018
Category: Awards, Persons & Places in News
Topics: 2018 Nobel Prize in Medicine • Awards • Cancer • Diseases • Immune checkpoint therapy • James Allison • Public health • Tasuku Honjo
Prof. Arul Chinnaiyan, an Indian-American scientist and professor at the University of Michigan, has been awarded an "Outstanding Investigator Award" along with a grant of $6.5 million by the U.S. National Cancer Institute to identify cancer biomarkers. The funding is aimed at identifying cancer biomarkers, which may improve diagnosis and help develop targeted therapies for ..
Topics: Arul Chinnaiyan • Biomarkers • Biotechnology • Branches of biology • Cancer • Cancer biomarker • Clinical medicine • Medicine • Targeted therapy
India has been ranked 145th among 195 countries with score of 41.2 in terms of Healthcare Access and Quality (HAQ) index of 2016, as per Lancet's latest study "Global Burden Of Disease". According to the study, India performed poorly in tackling cases of tuberculosis, rheumatic heart diseases, Ischaemic heart diseases, stroke, testicular cancer, colon cancer ..
Topics: Cancer • Chronic condition • Disease • Health • Medical terminology