Atmospheric dynamics Current Affairs, GK & News
A storm is considered a 'bomb' when the pressure drops rapidly — at least 24 millibars in 4 hours. Bomb cyclones also draw air from polar regions after it weakens. This can happen when a cold air mass collides with a warm air mass, such as air over warm ocean waters.
Topics: Air mass • Atmospheric dynamics • Cyclone • Explosive cyclogenesis • Extratropical cyclone • Extratropical cyclones • Mesoscale convective system • Meteorology • Vortices • Weather hazards
An anti-cyclone also known as a high pressure area is a large atmospheric circulation system with the wind flowing clockwise around it in the Northern Hemisphere, an counter-clockwise in the Southern Hemisphere. Anticyclones form from air masses cooling more than their surroundings, which causes the air to contract slightly making the air more dense. Since ..
Topics: Anticyclone • Atmosphere of Earth • Atmosphere of Jupiter • Atmospheric circulation • Atmospheric dynamics • Cyclone • High-pressure area • Low-pressure area • Meteorology • Physical geography • Vortices • Weather hazards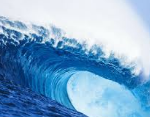 The World Meteorological Organisation (WMO) has announced that a wave which was recorded by an automated buoy in the North Atlantic ocean between Iceland and the UK in February 2013 to be the "the highest significant wave height measured by a buoy". This epic wave has overtaken the previous record-holder from December 2007, which also occurred ..
Topics: Atmospheric dynamics • Buoy • Oceanography • Physical geography • Physical oceanography • Physical sciences • Rogue wave • Significant wave height • Trough • Water waves • Weather hazards • Wind wave