American people of German descent Current Affairs, GK & News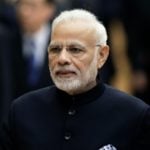 Prime Minister Narendra Modi is slated to be honored by a special honor given by the Gates Foundation for his exceptional leadership and dedication to the Swachch Bharat Abhiyan (SBA). The SBA is a nationwide program endeavor which aims to motivate the people to clean up the public spaces of the nation. What has happened? ..
Topics: American people of German descent • Big History • Bill & Melinda Gates Foundation • Bill Gates • Businesspeople • Economy of the United States • Freemen of the City of London • Melinda Gates • Personal computing
Veteran star Meryl Streep will become the first-ever recipient of the TIFF Tribute Actor award at the 44th Toronto International Film Festival (TIFF-2019). She will receive the award in person on 9th September for her tremendous contribution to cinema, television and the stage spans five decades. Streep is a 3-time Oscar winner for 'The Iron ..
Topics: Actors • American people of German descent • Angels in America • Creative works • English-language films • Film • Kramer vs. Kramer • Meryl Streep • Sophie's Choice • The Iron Lady • The Laundromat • Toronto International Film Festival
Boris Johnson, the former foreign secretary and London Mayor, has officially took over the charge as new British Prime Minister after Theresa May handed in her resignation to the Queen at Buckingham Palace. He promised to leave the European Union (EU) on 31st October 2019 under a "new deal, a better deal" with the 28-member ..
Topics: American people of German descent • Boris Johnson • British MPs • Government of the United Kingdom • House of Commons of the United Kingdom • Leaders of the Conservative Party • Theresa May
Russia has recently dismissed the findings of the long-awaited report by US Special Counsel Robert Mueller and said that it failed to present any evidence of Russian meddling in the 2016 US elections. The report titled "Report on the Investigation into Russian Interference in the 2016 Presidential Election" details extensive contacts between Donald Trump's 2016 ..
Topics: American people of German descent • Contents • Donald Trump • Foreign electoral intervention • Links between Trump associates and Russian officials • Mueller Report • Politics by country • Robert Mueller
The President of United States of America, Donald Trump has reiterated his threat that he will shut down the southern border of US with Mexico or huge sections of it if the latter does not put an end to passage of undocumented immigrants across the border with immediate effect. The President clearly stated that the ..
Category: Uncategorized
Topics: American people of German descent • Climate change skepticism and denial • Donald Trump • Foreign policy of Donald Trump • Illegal immigration to the United States • Presidency of Donald Trump • Right-wing populism in the United States • Trump wall • United States