Page-2 of
Algerian protests Current Affairs, GK & News
The army chief of Algeria Ahmed Gaid Salah, has said that the President of the country Abdelaziz Bouteflika, is not fit to rule the country. This has come after the country saw weeks of protests against Bouteflika who has not been keeping well. The protests erupted as the President announced that he will seek a ..
Category: Uncategorized
Topics: Abdelaziz Bouteflika • Abdelkader Bensalah • Africa • Ahmed Gaid Salah • Algeria • Algerian Civil War • Algerian protests • Bouteflika • Countries • National Liberation Front • Politics by country • Politics of Algeria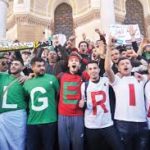 Algerian capital of Algiers is seeing a huge crowd for a fourth consecutive Friday raising demands of a compelling change to bring about an end to the rule of President Bouteflika who has been in power for 20 years. Protestors were largely draped in the red, green and white colours of the Algerian flag. The ..
Category: Uncategorized
Topics: Abdelaziz Bouteflika • Africa • Ahmed Ouyahia • Algeria • Algerian protests • Bouteflika • Countries • Politics by country • Politics of Algeria