Page-2 of
Agni-III Current Affairs, GK & News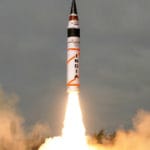 Nuclear-capable surface-to-surface Agni-III ballistic missile was successfully tested on 16 April 2015. The test was conducted from Wheelar Isalnd off the Odisha coast in the Bay of Bengal by the Strategic Force Command (SFC) with support of Defence Research and Development Organisation (DRDO). Facts about Agni III missile It is surface-to-surface nuclear capable intermediate-range ballistic ..
Month: Current Affairs - April, 2015
Topics: Agni-III • Current Affairs 2016 • DRDO • missile technology • Odisha
India successfully test-fired its home-built nuclear potent Agni-I ballistic missile off Integrated Test Range at Wheeler Island, Odisha coast. Highlighting features of Agni-1: Strike range: 700 km Surface-to-surface Single-stage missile Powered by solid propellants Weighs 12 tonnes, 15-metre-long Carrying capacity: Up to 1000 kg (1 Tonne) With specialized navigation system Objective behind the launch of ..
Month: Current Affairs - July, 2012
Topics: Abdul Kalam Island • Agni • Agni-II • Agni-III • Ballistic missile • Defence Research and Development Organisation • Guided missiles • Intercontinental ballistic missiles • Missile • Missile defense • Missiles • Weapons
Pakistan successfully test-fired long-range Hatf IV, Shaheen 1A ballistic missile in the Indian Ocean. The missile's range and technical parameters have been improved while it is capable of carrying nuclear warhead. Pakistan has tested the long-range missile just a week after India test fired its first ICBM (Inter-Continental Ballistic Missile) Agni-V on April 18, 2012.
Month: Current Affairs - April, 2012
Topics: Agni • Agni-III • Guided missiles • Hatf-I • In spaceflight • Intercontinental ballistic missile • Missiles • Pakistani missile research and development program • Shaheen-I • Short-range ballistic missiles • Weapons
India performed a successful test-fire of its indigenously developed nuclear capable "Agni-V" ballistic missile from a test range off Odisha coast. The missile was test-fired from a mobile launcher from the launch complex-4 of the Integrated Test Range (ITR) in Wheeler Island near Odisha coast. What is the significance of this launch of Agni-V? Agni ..
Month: Current Affairs - April, 2012
Topics: Abdul Kalam Island • Agni • Agni-III • Ballistic missile • Bharat Dynamics Limited • Defence Research and Development Organisation • Guided missiles • Guided missiles of India • Intercontinental ballistic missile • Intercontinental ballistic missiles • Missiles • Weapons