Abdullah Öcalan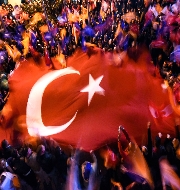 The local elections for the posts of Mayors and Municipal Councils, in Turkey have pronounced significance for one corner of Turkey. The area under scan has witnessed as many as hundred Mayors being removed from office in recent years and ..
Tags: Abdullah Öcalan • Controversies during the November 2015 Turkish general election • Kurdistan • Kurdistan Freedom Hawks • Kurdistan Workers' Party
The Kurds live mainly in Turkey, Iran and Iraq and probably number about 25-35 million worldwide. They are the most important ethnic group without a state of their own. They are mostly Sunni Muslims and have their own languages. About ..
Tags: Abdullah Öcalan • Geography • Kurdistan • Kurdistan independence movement • Kurdistan Workers' Party