World Press Freedom Index, 2021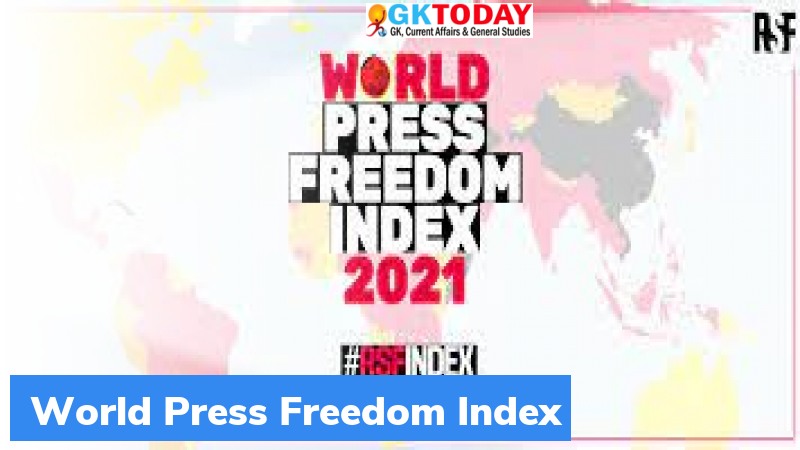 The Reporters Without Borders, a not-for-profit body recently published the World Press Freedom Index, 2021. It ranked 180 countries. India ranked 142 in the index. India was at the same position in 2020 as well.
Key Highlights
Norway topped the index followed by Finland and Denmark. The index was topped by Norway in 2020 as well.
Eritrea received the last rank in the index. China ranked 177th out of 180 countries. North Korea was at rank 179 and Turkmenistan was at rank 178.
India in the ranking
India was at rank 133 in 2016 and has been sliding positions since then. Amongst the Indian neighbourhood, Sri Lanka was ranked at 127, Nepal was ranked at 106, Myanmar at 140, Bangladesh at 152 and Pakistan at 145.
What does the report say about India?
According to the World Press Freedom Index, the BJP supporters in the country have created an environment of intimidation for critical journalists.
The report classified India under ''BAD" category along with Brazil, Russia and Mexico.
The report has named India as one of the world's most dangerous countries for journalists. It is highly dangerous especially for journalists trying to do their job properly.
The report has also made an open statement that Prime Minister Modi "Tightens his Grip on Media".
According to the report, the journalists in the country are exposed to every kind of attack This includes police violence against reporters, reprisals instigated by criminal groups and ambushes by political activists or corrupt local officials.
The right-wing Hindu Nationalism is purging the manifestations of anti-national thought from the public debate (Purge means to get rid of). Hate-campaigns are waged on social networks against journalists who dare to speak or write about the subjects annoying the Hindutva followers.
Conclusion
The report says that, the main vaccine against disinformation, JOURNALISM, has been completely blocked in 73% of 180 countries.
Month: Current Affairs - April, 2021
Category: Reports & Indexes Current Affairs
Topics: BJP • Hindutva • Journalism • Press Freedom • World Press Freedom Index
Latest E-Books