Which Russian tycoon has sued US over sanctions?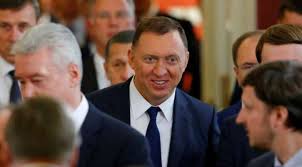 Russian metal tycoon Oleg Deripaska has sued the US due to sanctions which the latter has imposed. Deripaska has claimed that US has gone beyond its legal limit to impose sanctions on the companies which are owned by him and has shown himself being the latest victim of the Mueller probe into the alleged Russian interference in the 2016 Presidential elections of US.
Deripaska in a legal suit has asked the District Court of Washington to stop the Treasury Department of US to not to make use of such unchecked power of economic sanctions which were not in line with the US Constitution.
Both the Aluminium company Rusal and its parent company En+ have been hard hit by the US sanctions in the April of 2018 when Deripaska was also blacklisted with many other Russian businessmen who were close to President Putin and were benefitting from the relationship. They also were driving profits from the malign activities of the Russian nation around the world.
After a focussed campaign after which Deripaska had decided to sell its stake in both En+, Washington had lifted sanctions on Rusal and En+. Deripaska had given up its control on the corporate world in an effort to lessen its ruin and ultimate decline. Individual sanctions against Deripaska, however, remain in force still.
The spokesperson for Deripaska has stated that the latter had filed the suit against the Treasury Department of US so that all his hard work may not go waste due to "political scheming". There were no immediate comments from the Treasury Department over the lawsuit. Deripaska has stated that in his lawsuit that he had lost about 81 per cent of his net worth or by more than $7.5 billion ever since the sanctions were imposed.
The United States has stated that Deripaska had links to organised crime in Russia and also had ordered the killing of a businessman. Deripaska has repeatedly dismissed all these allegations and has rubbished them as rumours which have spread by his adversaries in business. Deripaska has stated that almost all the allegations have been making rounds since the last two decades but they have not been substantiated with evidence.
Russia has always denied any meddling in the US elections of 2016 and has maintained that the sanctions should be lifted. Many assets which actually formed the centre of Deripaska's wealth had been acquired in the 1990s during the chaotic sell-off of the state-owned mines and factories after the Soviet Union had collapsed.
Category: Uncategorized
Topics: Basic Element • Business • Economic sanctions • Economy • En+ Group • Michael Cherney • Oleg Deripaska • Rusal • Russian interference in the 2016 United States elections • Vladimir Potanin
Latest E-Books