What happened in Seoul Defence Dialogue 2019?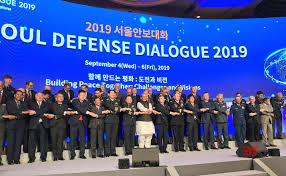 The Indian Defence Minister made a crystal clear statement about India's military might on the sidelines of the Seoul Defence Dialogue 2019. The Defence Minister stated that while India has never been an aggressor nor attacked or initiated conflict with any nation, it would not hold back if any other country attacked it or attempted to violate the territorial sovereignty of the Indian state.
These comments hold tremendous significance over the backdrop of the increasing tension between the nations of India and Pakistan which have spiked following the abrogation of Article 370.
Highlights from the Seoul Defence Dialogue 2019
Given China's recent posturing in the South China Sea and its aggressive demeanor, the other nations in the region are concerned.
China has been increasing its military presence in the Indo-Pacific region which has triggered massive concerns and the United States wants India to adopt a more active role in the Indo-Pacific to counter China's increasing clout in the region.
India aims for common prosperity and security-based platform for the entire region and expects the nations to evolve a minimum common rules-based order for the entire Indo-Pacific region.
The Indian Defence Minister aims for all nations to be provided equal access for all-natural resources in the region.
India along with the nations of U.S., Australia, and Japan aim to give shape to a Coalition which will counter China and aims to develop a new strategic option which will keep all critical sea routes in the Indo-Pacific free of any aggression.
The Indian Home Minister also called out for collective international action to stop perpetrators who encourage terrorism. He also advocated for the need to take strong measures against all those who support and finance terrorism and provide sanctuary to terrorists.
About the Seoul Defence Dialogue 2019
The Seoul Defence Dialogue is a platform for defense diplomacy and is attended by the military top brass from several countries.
In modern time, Defence diplomacy is a key pillar of any nation's strategic toolkit. For a nation to be safe from external aggression, it is equally imperative that a nation puts equal importance on having a defense diplomatic team and maintains a strong defense force.
The theme of this year's event was  'Building Peace Together: Challenges and Vision'.
The Indian Defence Minister's address was attended by the top military brass of South Korea and top executives of South Korea's defense manufacturing firms.
Topics: Indian Ocean • Indo-Pacific • Oceans • Pacific Ocean • United Service Institution
Latest E-Books