What are "Tarballs" fastening Himalayan Glacial melting?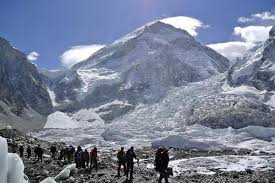 The scientists from Zhejiang University have reported in their study that the percentage of tarballs has increased in the Himalayan region and this is increasing the glacial melt in the region.
What are Tarballs?
Tarballs are carbonaceous particles. They are capable of absorbing even small light. They are formed due to the burning ot fossil fuels and biomass. They deposit and ice and snow. This increases their light absorbing capability that hastens the glacial melting.
The median size tarballs found in the Himalayan Glaciers were of size 213 nanometres and 348 nanometres.
Why the increase?
The study reveals that this is mainly due to wheat residue burning in the Indo-Gangetic plains. The Tarballs are being carried by the wind. The Tarballs are emitted along with black carbon.
Tarballs in Oceans
The Tarballs are formed in oceans as well. In the ocean, they are formed from the crude oil floating in the water. They are transported from open sea to the shores by sea currents. They were usually coin sized earlier. However, in the recent years, they have become big as basket balls and are weighing six to seven kilograms. In Himalayas too, their sizes are increasing slowly.
How are Tarballs harmful to ocean?
They get stuck to the fishing nets installed in the sea. This makes it difficult for the fishermen to fish. Also, they are major concern to the global marine ecosystem.
Earlier Tarball Cases
Tarballs are difficult to break down. They travel hundreds of miles in sea and also by wind as in Himalayas. In 2010, Tarball occurrences were witnessed in Goa beaches. In 2019, they were found in Juhu beach of Mumbai.
Major Glaciers in India
Gangotri Glacier in Uttarkashi, Utttarakhand
Milam Glacier in Trishul peak of Pithoragarh of Uttarakhand
Pindari Glacier in Nanda Devi, Uttarakhand
Zemu Glacier is the largest glacier in Eastern Himalayas. It is located on Kanchenjunga peak in Sikkim.
Month: Current Affairs - November, 2020
Category: Environment Current Affairs
Topics: Air pollution • Glacier • Glacier mass balance • Himalayas • Tarball
Latest E-Books