Update – Amarnath Yatra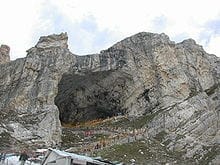 The Amarnath Yatra is an annual pilgrimage organized by the Government of India for the Hindu pilgrims who go to visit the Amarnath Temple which is located in Jammu & Kashmir, India.
Significance of the Amarnath Yatra
The Amarnath shrine is one of the holiest shrines for Hindus in India.
It is one of the 18 Maha Shakti Peethas, or "Grand Shakti Peethas". These are highly revered and religiously significant temples throughout South Asia that commemorate the location of fallen body parts of the Hindu deity Sati.
The cave is surrounded by snowy peaks and is accessible only for a short duration in the summers.
It is a Shiv-linga made of ice (stalagmite formation). This is formed due to the freezing of water droplets that fall from the roof of the shrine.
The shrine holds great religious significance and is visited by several Hindus in the annual pilgrimage.
Security
Between 1990 and 2017, a total of 36 attacks were carried out on the Yatra in which 53 pilgrims died and 167 were injured.
Due to the terror threats, the Amarnath yatra was not held in between 1990-1995.
In 2017, a terror attack in Botengro, Anantnag led to the deaths of 8 pilgrims and left 19 injured.
Over 40,000 security forces have been deployed exclusively to ensure the protection of pilgrims going on the yatra.
Current Status
Currently, over 1.5 lakh people have registered to visit the cave and pray. Over 2.85 lakh pilgrims had paid obeisance at the cave in 2018. This figure was 3.52 lakh in 2015, 3.20 lakh in 2016 and 2.60 lakh in 2017.
Topics: Counter-terrorism • Jammu and Kashmir • religion • Religion-based violence • Terrorism
Latest E-Books