Union Cabinet approves norms for Mandatory Packaging in Jute MAterials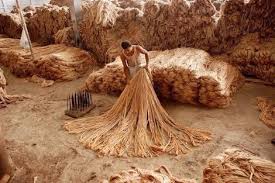 On October 29, 2020, the Union Cabinet approved by PM Modi approved that 20% of sugar and 100% of food grains should be mandatorily packed in jute bags.
Highlights
This decision will help in diversifying jute industries. The mandatory jute packing norms have been introduced under Jute Packaging Material Act, 1987. However, when in shortage of jute bags, the Ministry of Textiles can ease the provisions to 30% of food grains (to be packed).
Background
More than 3.7 lakh workers are dependent in jute sector for their livelihood in India. The GoI has been making several efforts to develop the jute sector. These includes diversification of jute sector, increasing quality and productivity of jute and diversification of jute sector.
Jute Packaging Materials (Compulsory use in Packing Commodities) Act, 1987
According to the act, it is mandatory to use jute as packaging material in supply and distribution of certain commodities. This is being done under the interest of production of raw jute and help persons involved in jute production.
Significance
The Jute Industry is heavily dependent on Government of India for its survival. Around Rs 7,500 crores of jute bags are bought for packing food grains every year. It is predominantly bought by GoI to support the livelihood of farmers dependent on jute sector.
Supports provided to Jute Industry
Jute Corporation signed Memorandum of Understanding with the National Seeds Corporation to distribute 10,000 quintals of certified seeds. The upgraded technology and distribution of certified seeds will increase the quality and productivity of jute crops
The National Jute Board recently collaborated with the National Institute of Design at Gandhinagar to support diversification of jute sector.
The Government of India imposed anti-dumping duties over import of jute goods from Nepal and Bangladesh since January 2017.
SMART Initiative was launched in 2016 to provide an integrated platform tp procure B-Twill sacking.
The Jute Corporation of India transfers 100% funds to jute farmers for procuring jute under Minimum Support Price.
Month: Current Affairs - October, 2020
Category: Economy & Banking Current Affairs - 2022
Topics: Anti-dumping duty • cabinet approval • Jute • Jute Corporation of India • Jute industry • Jute trade • National Jute Board • Union Cabinet
Latest E-Books