Tyeb Mehta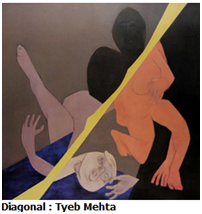 Tyeb Mehta (1925-2009) was one of the pioneers of modern Indian art. He was born in 1925 in Kapadvanj, a town of Kheda district, Gujarat. During his early days, he worked as a film editor in a cinema laboratory at Famous Studio (Mumbai). In 1952, he joined Sir J.J. School of Art where he received a diploma and became a part Bombay Progressive Artists' Group, due to which he was strongly influenced and inspired by Western Modernism. In 1959, he went to London and worked there for nearly 5 years. During this period, he was highly influenced by the expressionist works of Francis Bacon. He was later awarded the Rockefeller Fellowship in 1968 for which he went to New York. While in New York his work came to be characterized by minimalism. He also won a gold medal for painting first Triennial in New Delhi in 1968.
In 1969, he accidently discovered the 'Diagonal series' which later became one of the main characteristic features of all his work through the 1970's. Later, his worked also included 'Falling Figures', and mythological figures highlighted by the depictions of goddess Kali and demon Mahishasura. He won the Filmfare Critics Award in the year 1970 for three minute short film name 'Koodal'
. The film was based on Bandra slaughter house. In 1974 the he won the Prix Nationale at the International Festival of Painting in Cagnes-sur-Mer, France. During 1984-85, he was also an Artist-in-Residence at Shantiniketan. This led to a significant transformation in his work.
He received the Kalidas Samman in the year 1988. In 2002, his creation named 'Celebration'
for 15 million INR which made him the highest paid Indian painter of that time. In 2005, his painting 'Gesture' was sold for 31 million Indian rupees to Ranjit Malkan. It was the then highest price paid to an Indian painter by an Indian. His work has been exhibited in the various International art museums including Museum of Modern Art, Oxford, England, and the Hirshhorn Museum. He was awarded with the Padma Bhushan by the Government of India in the year 2007. He died in the year 2009 at the age of 83.
Paintings of Tyeb Mehta
Tyeb had grown up in the Crawford Market of Mumbai within the orthodox Shiite community of the Dawoodi Bohras. He had witnessed the violence and experienced the frowzled remains of the Indian society. During his childhood, he used to live at Mohammed Ali Road. It was a time of India's partition. One day he saw a man getting slaughtered on the streets just below his house. The man was hammered by the mob and his head smashed because he happened to be a Muslim. This incident made Tyeb ill for several days and then the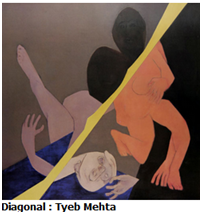 memory haunted him through out his life. The violence that he saw during his childhood, gave way to the emotions, which reflects in his paintings.
In 1947, he got enrolled at Sir JJ School of Art in Mumbai. There he met the graduates of this school including MF Husain and FN Souza, who comprised the Progressives and rejected both Western classicism and the nationalist Bengal school in favor of a new Indian avant-garde.
Following a self-imposed separation from his extended family at age 29, Mehta went abroad to London and Paris for four months in 1954 to study Western art, both the old masters and European modernists. In 1956, he completed his first important works, Rickshaw Pullers and Trussed Bull, abstract canvases composed of hard-edged shapes that prefigured, in both subject and style, his best-known works.
Diagonal Series
The Diagonal Series of paintings creates an effect a partition of space that was homogenous until the making of this gesture, into two related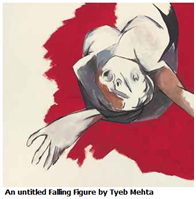 but separate parts. This series reverberates an echo of the 1947 Partition of British India. It was the partition of India, that put Mehta and other Muslims under the pressure to choose between the homeland or new collective ideal based upon only religion. The diagonal series also emphasises separation and twinning and the psychology of schism that haunted this painter, while he was alive.
Falling Series
The Falling Series also reverberates the traumatic memory from his childhood when he witnessed the violent death of a man during the Partition riots of 1947. The Falling Figures series represent an exceptional moment of synergy between Tyeb's artistic and social concerns. The emotions behind the falling figures were to define a resistance and control the tension in the paintings through spaces, colors, images and matrices in order to bring out a catastrophe. The Falling Series won a lots of accolades for him in India as well as abroad. His famous painting titled the "Falling Figure and Bird" displays a human figure in a state of deliberation while falling. The painting shows his intellectual rendezvous with modernist existentialism and international concepts of the "Universal Man".
Topics: Indian Paintings • Progressive Art Group • Tyeb Mehta
Latest E-Books