Tropical Storm Barry hits Louisiana in US and entire Gulf coast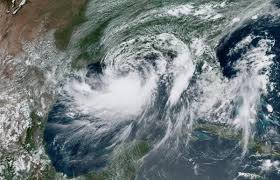 After making landfall along central Louisiana coast (in United States) as a Category 1 hurricane, the powerful storm Barry was downgraded to a tropical storm. After briefly becoming 1st hurricane of Atlantic season, the storm downsized to a tropical depression over northwestern Louisiana, but its heavy rain continues to plague communities.
Key Highlights
Background: All concerned authorities were on high alert as Barry's path went across the western periphery of New Orleans, where 14 years ago (in 2005) Hurricane Katrina devastated city and surrounding areas. After receiving a letter from Edwards urging federal action, in early July 2019 US President Donald Trump declared a state of emergency in state. This declaration gives Louisiana access to federal assistance.
Wind Speed: Tropical Storm Barry made landfall Louisiana as a Category 1 hurricane with sustained winds clocking in at more than 130 kilometers per hour (81 miles per hour) but it quickly weakened to a tropical storm with winds dropping to 70 miles per hour.
Concern: Storm is expected to bring more heavy rain and possible tornadoes to the region and the Mississippi River is already swollen from springtime floodwaters.
Scientists already warned of compounding risks due to climate change.
The surge of fresh water due to tropical storm endangers oysters, speckled trout, brown shrimp and other fish that require particular salinity levels. Thus Barry's severe flooding could make things worse especially in light of more intense and frequent storms brought on by global warming.
Moreover there are going to be short-term effects on ecosystem but the amount of rainfall is linked to longer-term trend because of climate change.
About Tropical Cyclones
They are violent storms originates over oceans in tropical areas. They then move over to coastal areas bringing about large scale destruction due to violent winds (which are known as squalls), torrential rainfall and storm surge.
Various names are given to tropical storms depending on where they appear such as:
Hurricanes– are tropical storms form over North Atlantic Ocean and Northeast Pacific.
Cyclones– over South Pacific and Indian Ocean
Typhoons– Northwest Pacific Ocean
Month: Current Affairs - July, 2019
Category: Environment Current Affairs
Topics: Gulf Coast • Hurricane • Hurricane Katrina • Louisiana • Mississippi River • Tropical cyclones • Tropical Storm Barry
Latest E-Books