Top GKToday's News Headlines- 30 October 2019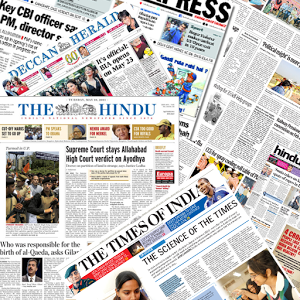 Here are the top News Headlines of 30 October 2019 for all competitive examinations of India.
National Current Affairs
Justice Sharad Arvind Bobde appointed next Chief Justice of India (CJI), will take oath on Nov 18
Odisha Disaster Preparedness Day observed on October 29
Delhi Police doubles 'PRAKHAR' anti-street crime vans
PARAMHANSA YOGANANDA COINS
Finance Minister Nirmala Sitharaman released a special commemorative coin to mark 125th birth anniversary of Paramahansa Yogananda
Yogananda was the founder of two organisations — Yogoda Satsanga Society of India and Self-Realisation Fellowship
Economy & Business Current Affairs
BSE Sensex: 39,832 (+582), NSE Nifty: 11,786.85 (+160)
Finance Minister chairs Governing Council (GC) meeting of the National Investment and Infrastructure Fund (NIIF)
RBI imposes penalty of Rs 1 crore on Bandhan Bank for not bringing down the promoter shareholding to 40%
India exported organic products worth Rs 5,151 crore in 2018-19: APEDA
APEDA: Agricultural and Processed Food Products Export Development Authority
India, US sign SOI (Statement of Intent) to strengthen dialogue on defence technology cooperation
CBI arrests Pailan group chief Apurba Saha in Kolkata Rs 574-crore ponzi scam case
National Corporate Social Responsibility Awards (NCSRA), instituted by the Ministry of Corporate Affairs, presented by the President in New Delhi
HCP Design, Planning and Management wins consultancy bid to redevelop Parliament and the Central Vista
International Current Affairs
2 killed in as an earthquake measuring 6.6 on the Richter scale struck the southern Philippines
Argentina's Rafael Grossi elected new Director General of the International Atomic Energy Agency (IAEA)
PM Modi calls on Saudi Arabian King Salman bin Abdulaziz Al Saud in Riyadh.
PM Modi meets King Abdullah II of Jordan in Riyadh
Actor Nawazuddin Siddiqui wins Golden Dragon Award at the Cardiff International Film Festival in Scotland
Japan's Sadako Ogata, the first woman to head the UN's refugee agency UNHCR, dies at 92
Sports Current Affairs
ICC bans Shakib Al Hasan of Bangladesh for two years over breach of Anti-Corruption Code for not reporting being approached by a bookie during IPL in April 2018.
Category: Today's News Headlines
Latest E-Books