Top 10 Business, Economy & Banking Current Affairs Questions – May, 2021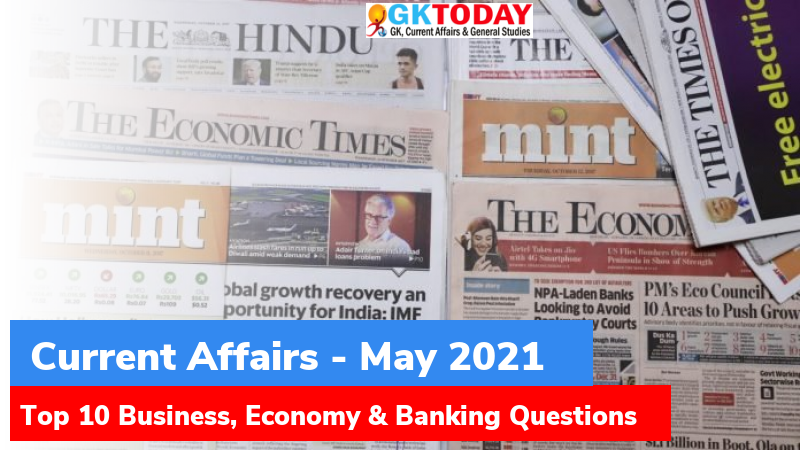 Which bank has launched digital platform 'Merchant Stack' to provide banking services to retail merchants?
Answer: ICICI Bank
Which Indian insurance company has featured in the top 10 list of most valuable insurance brands globally?
Answer: LIC
The SDRF contribution is released in two equal instalments to the states, as per the recommendation of ………?
Answer: Finance Commission
As per the recent SEBI Guidelines, ……….. % salary of top executives be paid in mutual fund units?
Answer: 20
Which policy/act has been revised to allow the import of oxygen concentrators for personal use in India?
Answer: Foreign Trade Policy
What is the name given to a privately pooled investment fund, in the form of a trust/ company/ LLP is called a …………?
Answer: Alternative Investment Fund
'Significant Economic Presence (SEP) principle', is a concept used to levy which category of tax?
Answer: Digital Tax
Which steel company has entered into the list of top 100 most valued companies in terms of market capitalisation?
Answer: SAIL
The CCEA approved the strategic disinvestment of which bank, owned by the Government of India and LIC?
Answer: IDBI Bank
As per the recent RBI Guidelines, lending by Small Finance Banks (SFBs) to which institutions are considered as Priority Sector Lending?
Answer: Micro-Finance Institutions
Month: Current Affairs - May, 2021
Category: Top Current Affairs - 2021
Latest E-Books