Three mines of Coal India's arm Western Coalfields Ltd (WCL) inaugurated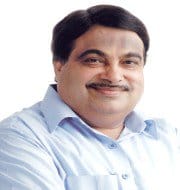 Nitin Gadkari, the minister of road transport, highways and MSME has inaugurated three mines of Coal India's arm Western Coalfields Ltd (WCL).  The three mines are: (1) Adasa Mine, an underground to open cast mine, in Nagpur Area of Maharashtra (2) Sharda underground Mine in Kanhan Area and (3) Dhankasa underground mine in Pench Area of Madhya Pradesh. Annual coal production capacity of Adasa mine is 1.5 MT whereas Sharda and Dhankasa mines have annual coal production capacities of 0.4 MT and 1 MT respectively.
On this occasion, Minister announced the companies target of 100 million tonnes production by 2026-27. WCL also plans to set up 20 more mines in the coming four years and looks to invest Rs 5300 crore as capital investment.
Nitin Gadkari has also stressed upon offering more employment and has asked the company to employ more sons of the soil in its projects. WCL will also provide sand at lower cost to the poor for construction of houses and is already providing sand to the  the National Highways Authority of India (NHAI) and other government entities at lower prices. The Minister also said that a transparent sand auction in the country will allow for Rs 20,000 crore as royalty to the government.
Topics: Coal • Coal India • Energy • Western Coalfields Ltd
Latest E-Books