Supersonic interceptor missile successfully test-fired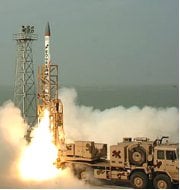 Indigenously developed supersonic Advance Area Defence (AAD) interceptor missile was successfully test-fired from launch complex III of the Integrated Test Range (ITR) at Abdul Kalam Island in Balasore, Odisha.
The supersonic interceptor missile is capable of destroying any incoming enemy ballistic missile at low altitude. The successful test validates the reliability of its two layered Ballistic Missile Defence (BMD) system.
Key Features of missile
The AAD interceptor missile has been indigenously developed by DRDO. It is a 7.5-metre-long single stage solid rocket propelled guided missile.
It is equipped with a navigation system, a hi-tech computer, inertial navigation system and an electro-mechanical activator.
It can destroy the incoming hostile ballistic missile in the endo-atmospheric region (less than 30 km altitude) at a low altitude of less than 30 kms.
It has its own mobile launcher, secure data link for interception, independent tracking and homing capabilities and sophisticated radars,
About India's BMD programme
The Research Centre Imarat (RCI) of the DRDO has played pivotal role in the development of all strategic missiles, spearheaded under the India's double-layered ballistic missile defence (BMD) programme.
The BMD consists of two interceptor missiles, Advanced Area Defence (AAD) missile for endo-atmosphere or lower altitudes and Prithvi Defence Vehicle for exo-atmospheric ranges.
The DRDO expects deployment of BMD shield by 2022. India will be fourth country in the world after the US, Russia and Israel to successfully built effective anti-ballistic missile system.
Earlier in February 2017, DRDO had successfully carried out test of the exo-atmospheric Pirthivi interceptor missile destroying the target outside the earth's atmosphere at an altitude of over 85 km.
Month: Current Affairs - March, 2017
Topics: Ballistic Missile Defence System • Defence • DRDO • Missile Techbology • National • Odisha • Prithvi interceptor missile
Latest E-Books