Sri Lankan President bans On Face-Covering in Public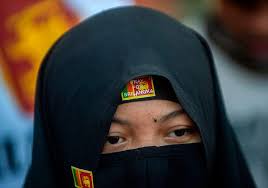 Sri Lankan President Maithripala Sirisena used his emergency powers to issue an order to ban burqa, veil or covering of face in public places in any manner which prevents anyone from being identified.
Key Highlights
The order which came into immediate effect explicitly defines that any garment or item which obstructs identification of an individual's face is barred. It is placed to ensure national security, establish peaceful and cohesive society and not aimed at inconvenience to any community people.
Reason: The decision was taken in aftermath of Easter Sunday blasts which took place across eight locations, including three prominent churches and three hotels in island nation, in which more than 250 people were killed.
In a bid to help stabilize security situation, some Muslim organisations came forward and suggested a ban on burqa. Even local Muslim clerics urged their women not to cover their faces in escalating fears of backlash after the attacks. Most Sri Lankan Muslims practice liberal form of religion, with only very small percentage of women wearing niqab (a full face veil).
Religious Demography in Sri Lanka: With only 21 million population Sri Lanka is a multi-religious nation with mix ethnicities, and is dominated by Sinhalese Buddhist majority. As per 2012 census 70.1% of population is Buddhists, 12.6% Hindus, 9.7% Muslims and 7.6% Christians. With most Sinhalese being Buddhist, most Tamils are Hindu and Moors and Malays are mostly Muslim.

Month: Current Affairs - April, 2019
Topics: Buddhists • Burqa • Burqa Ban • Easter Sunday blasts • Maithripala Sirisena • Muslims • Niqab • President • Sinhalese • Sri lanka
Latest E-Books