Samudra Lakshmana Naval Excercise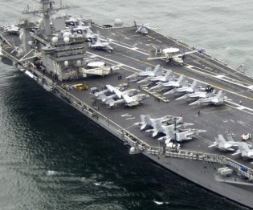 India and Malaysia conducted a joint naval military exercise 'Samudra Laksamana' to test inter-operability of their navies in South East Asia and Western Pacific regions.
Samudra Lakshmana
Samudra Laksamana was the sea phase of the exercise. The harbour phase of the exercise will be held in coming days and it will involve official calls, social engagements, visits by the local populace and various sports events.
Two warships, Indian Naval Ship (INS) Sahyadri and INS Kiltan, have been despatched by the Indian Navy to Malaysia for the bilateral exercise.
INS Sahyadri is a Shivalik-class stealth multi-role frigate built for the Indian Navy whereas INS Kiltan is an anti-submarine warfare corvette of the Indian Navy. It is the third of four Kamorta-class corvettes under various stages of induction with the Indian Navy.
The two ships are equipped with a versatile array of weapons and sensors and can carry multi-role helicopters and represent the 'coming of age' of India's warship building capabilities.
Topics: Camorta • Corvette • Indian Navy • INS Kiltan • INS Sahyadri • Kamorta-class corvette • Kiltan • Laksamana • Malabar • Ships • Shivalik • Warships
Latest E-Books