Revolutionary Sachindra Nath Sanyal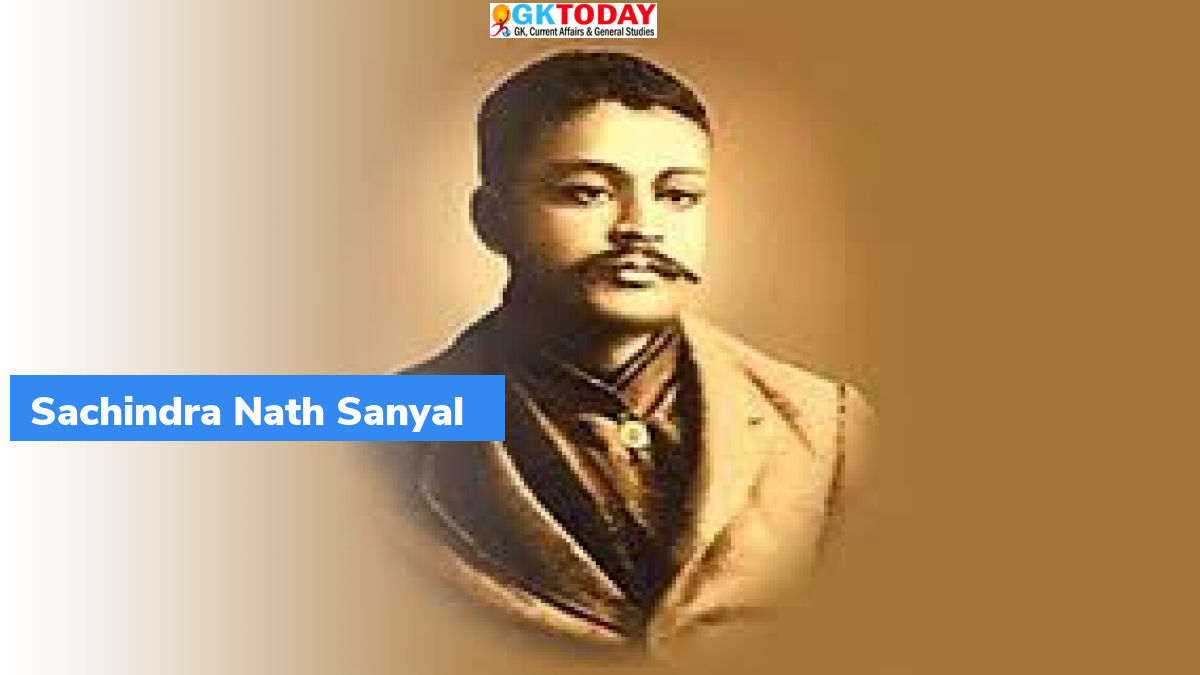 On February 8, 2022, the 80th death anniversary of Sachindra Nath Sanyal was marked. He was the co – founder of Hindustan Republican Association. He was the mentor of Bhagat Singh, Sukdev and Rajguru. Also, he faced imprisonment in "Kakari Train case". He was incarcerated in cellular jail. Incarceration means the state of being confined to prison.
Who was Sachindra Nath Sanyal?
Sachindra was an Indian revolutionist. He was born in Beanres in 1890. He was associated with the Indian Revolutionary movement. His parents were Bengal Brahmins.
Revolutionary career
He founded Anushilan Samiti in Patna in 1913. The organisation was formed from the local gyms in Bengal.
He along with other revolutionists attacked Viceroy Hardinge in 1912. Hardinge succeeded Chelmsford. The Hardinge railway bridge was constructed in Bangladesh in 1915 during his tenure. It was due to Hardinge that Britain received Indian troops to fight in world war I.
Hindustan Socialist Republican Association
At first it was known as Hindustan Republican Army. It was founded by Ram Prasad Bismil, Sachindra Nath Sanyal, Ashfaqulla Khan, Sachindra Nath Bakshi, Jogesh Chandra Chatterjee. It operated between 1924 and 1936. It followed the far – left politics. Meaning it followed communism, anarchism, anti – capitalism and anti – globalization.
Bhagat Singh
The organization was responsible for killing John Saunders. Bhagat Singh killed Saunders in 1928. Saunders was the Assistant Superintendent of Police. Saunders hit Lala Lajpat Rai during a peaceful procession. Rai died because of this. Bhagat Singh killed Saunders to take revenge.
How is Indian Revolutionary Movement different?
It was a part of the Indian Independence Movement. Rash Behari Bose is the father of Indian Revolutionary Movement. These people believe in armed revolution.
Indian Extremists
Indian Extremists were not revolutionists. They wanted independence from British. They were part of the Indian National Congress.
Indian Moderates
They were okay to stay under British rule. They wanted the Britishers to understand Indian demands. They wanted more autonomy and self rule under the British.
Indian Independence Movement
Between the period 1857 and 1947. All the historic events in this period are referred to as Independence movement.
What is Kakari Train case?
It was a train robbery. It happened at Kakori or Kakari village near Lucknow. The robbery was organised by Hindustan republican Association. It was done by Ram Prasad Bismil and Ashfaqullah Khan. The revolutionists looted money from the train. The money belonged to Indians and was being transferred to the British government treasury.
Month: Current Affairs - February, 2022
Category: Awards, Persons & Places in News • Persons in News
Topics: Bhagat Singh • Indian independence movement • Sachindra Nath Sanyal
Latest E-Books