Python 5 Air to Air Missile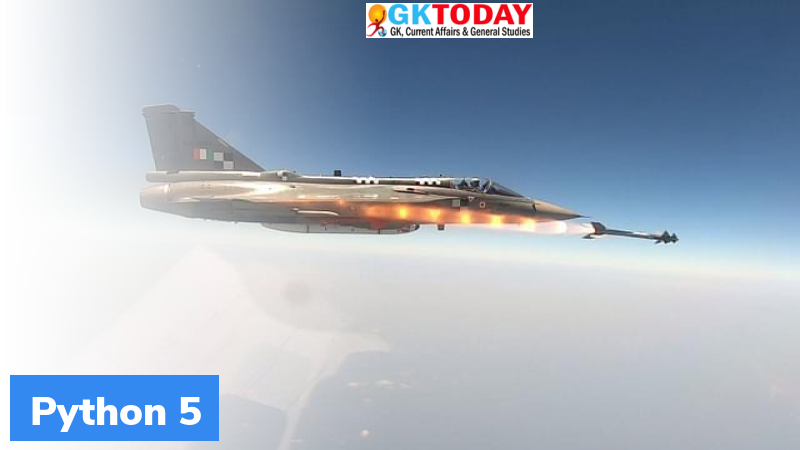 The Defence Research and Development Organisation recently test fired a series of missile trials. It included the Derby missiles and the Python missiles. The missiles were test fired in Goa and achieved 100% hits.
With this the DRDO announced that the Python 5 Air to Air Missile has been successfully added to the Light Combat Aircraft Tejas.
Python 5
It is the fifth generation Python missile.
It is an air to air missile built by the Israeli weapon manufacturer Rafael Advanced Defence Systems.
The Israeli Government began manufacturing missiles in the name of "Shafir". Later as it started exporting missiles it selected a western name "Python" or "Derby".
The Python-5 is currently the most capable Air to air missile in the inventory of Israel.
It is beyond visual range missile. The Beyond Visual Range missiles are those missiles that are capable of engaging at ranges beyond 37 km.
It features an advanced seeker that includes Electro-Optical and Image Infrared Homing.
The Python 5 is capable to scan for the target area for the hostile aircraft and then locks on for terminal chase.
It was first used in 2006 Lebanon war. It destroyed two Iran made UAVs.
Speed of the missile is Mach 4.
It weighs 11 kilograms
Derby
Just like Python, it was also made by Rafael of Israel. In fact, Python 5 is an advanced version of Derby.
It is also a Beyond Visual Range Missile.
It is active radar homing missile. An Active Radar Homing Missile is a missile that contains a radar transceiver to find and track the target autonomously.
Month: Current Affairs - April, 2021
Category: Defence Current Affairs
Topics: Air-to-Air Missiles • DRDO • India-Israel • Light Combat Aircraft (LCA) • Missiles • Python 5 • Rafael
Latest E-Books