PSLV-C52 Mission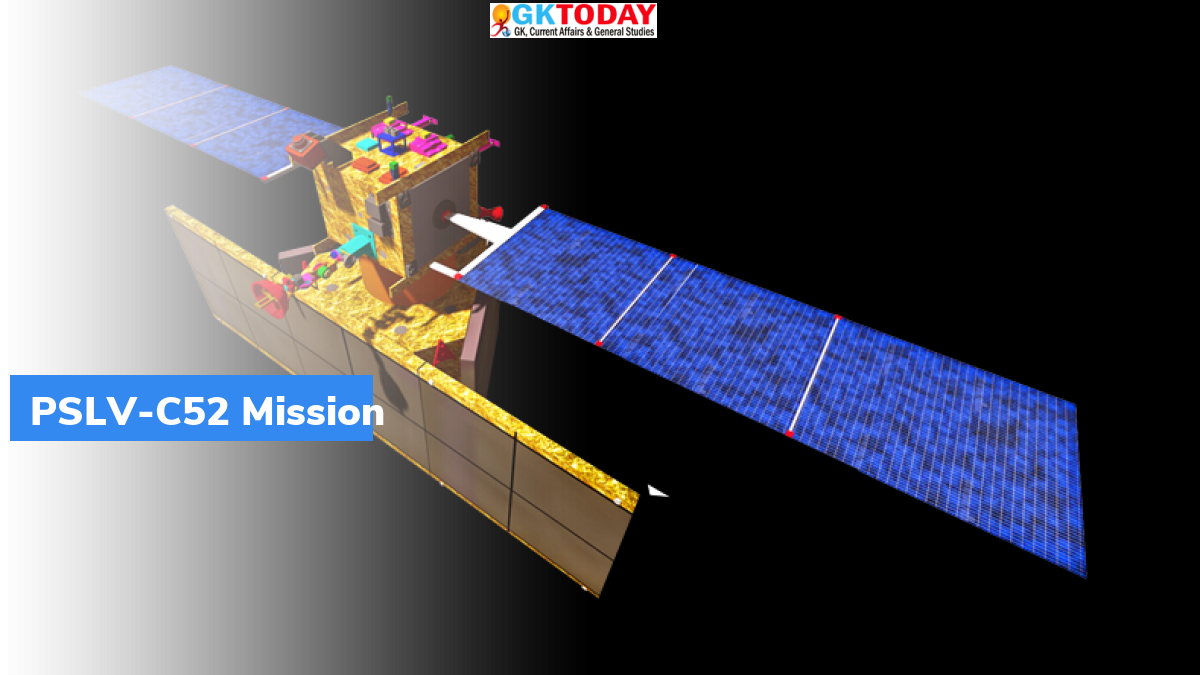 Indian Space Research Organisation (ISRO) is set to launch its first mission of 2022 is slated on February 14, 2022.
Key Facts
The Polar Satellite Launch Vehicle (PSLV-C52) is scheduled to launch on February 14, from first launch pad of Satish Dhawan Space Centre, Sriharikota.
It will orbit an earth observation satellite (EOS-04).
About PSLV-C52
PSLV-C52 have weight of 1710 kg. It will orbit around EOS-04 into a sun synchronous polar orbit of 529 km. This mission will carry two small satellites as co-passengers, namely,
Student satellite (INSPIREsat-1) – This satellite has been developed by Indian Institute of Space Science & Technology (IIST) in collaboration with Laboratory of Atmospheric & Space Physics at University of Colorado, Boulder.
Technology demonstrator satellite (INS-2TD)– This satellite has been developed by ISRO. It is precursor to India-Bhutan Joint Satellite (INS-2B).
Operation time
The satellite will remain in operation for just six months.
How will satellite do assessment?
The satellite comprises of thermal imaging camera. This camera will help in the assessment of water surface temperatures, land, thermal inertia and delineation of vegetation.
Aim of the mission
The satellite aims to improve understanding of ionosphere dynamics as well as sun's coronal heating process. Its operational lifetime has been set for a year.
What is EOS-04?
EOS-04 is a Radar Imaging Satellite (RISAT), that has been designed to provide high quality images under all weather conditions. It will provide images for applications like forestry & plantations, agriculture, flood mapping and soil moisture & hydrology. It will collect observation data in C-Band, completing the observations done by Cartosat, Resourcesat, and RISAt-2B series.
Disposal of INSAT-4B
INSAT-4B satellite undergone post mission disposal (PMD) at the end of its life, followed by its decommissioning on January 24, 2022, in a bid to comply with the UN and space debris mitigation guidelines, recommended by Inter Agency Space Debris Coordination Committee. It is the 21st Indian GEO satellite to undergo post-mission disposal.
Month: Current Affairs - February, 2022
Category: Science & Technology Current Affairs
Topics: EOS-04 • INS-2TD • INSAT-4B • INSPIREsat-1 • PSLV-C52 Mission • Radar Imaging Satellite (RISAT)
Latest E-Books