President Ram Nath Kovind pitches for simultaneous elections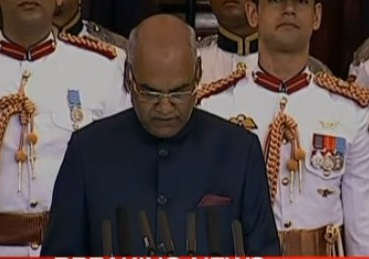 President Ram Nath Kovind has called for simultaneous elections to Lok Sabha and state assemblies. He made this state while addressing the joint sitting of Parliament on the commencement of the Budget Session.
He made this statement arguing that frequent elections impede speed of development as officials have to assist in conducting polls. He called for sustained debate on subject of simultaneous elections and urged all political parties to arrive at consensus on this issue.
Need for simultaneous elections
Frequent elections affect the governance as imposition of model code of conduct in poll bound areas puts on hold all developmental activities on that area and also affects the bureaucracy's functioning.
Elections in India are big-budget exercise. Expenditure can be reduced by conducting simultaneous elections.
Law Commission in its 170th report titled Reform of Electoral Laws (1999) had suggested holding simultaneous elections at all levels for stability in governance.
Frequent elections disrupt normal public life and affect functioning of essential services. Moreover, frequent elections lead to frequent disruption of road traffic by political rallies and also lead to noise pollution.
Crucial manpower especially teachers is often deployed on election duties for prolonged period of time. If simultaneous elections are held, then this manpower will be made available for other important tasks.
Difficulties
Not all voters are highly educated to know who to vote for. They may get confused and may not know whether they are voting for candidates contesting assembly or parliament elections.
Frequent elections bring politicians back to the voters, create jobs (though temporary) and prevent the mixing of local and national issues in the minds of the voters.
The issue of logistics and requirement of security personnel, election and administrative officials needs to be considered.
There is dearth of enough security and administrative officials to conduct simultaneous free and fair elections throughout the country in one go.
Mostly elections in big states are held various phases mainly due to security concerns. If this is situation, holding simultaneous elections for all the states, it may need to be held in many phases stretching over many months.
Background
The idea of 'one nation one election' has been proposed for many years starting with Law Commission suggestion in 1999. Most recently, Parliament's standing committee 2015 report suggested holding simultaneous election to save public money and end policy paralysis because of impact of the model code of conduct. It had pegged the cost of holding elections for Lok Sabha and state assemblies at Rs. 4500 crore. Prime Minister Narendra Modi too had pitched for this idea.
Month: Current Affairs - January, 2018
Topics: Lok Sabha • National • Ram Nath Kovind • simultaneous elections
Latest E-Books