Political Funding in India: Overview of Rules and Recent FCRA Amendment
The funding of political parties is one of the major issues related to election finance reforms in India. Other major issues include political expenditures, disclosure norms, state funding of elections etc. The issue of political funding pertains to various laws including RoPA, Conduct of Election Rules, 1961; Companies Act, 2013; Income Tax Act, 1961; Foreign Contribution (Regulation) Act etc. This issue has frequently surfaced – most recently in the aftermath of demonetisation.
Background
The political funding in India began in 1920s when Congress under leadership of Mahatma Gandhi began fund raising from business houses and individuals for freedom struggle. The companies and individuals donated generously for what they considered a "noble cause".
This practice continued even after freedom and became increasingly politicized.  The fund raised by political parties now was mainly to run everyday affairs of the party and to fight and win elections. All political parties today rely on both legitimate and illegitimate sources for money. While the practice of financing by corporate and businessmen continued, it was supplemented by kickbacks and commissions received from the foreign deals. In most cases, the beneficiaries were the ruling parties which struck these deals. The issue was not much highlighted until the Jain Hawala Case (1990s) exposed some of the politicians and political parties. Later, it was discovered that some of the chief ministers had siphoned of government money from government treasury to their party funds.
Current Rules and Regulations
Rule about contributions
The political parties receive funds from three main sources viz. individual contribution, corporate contribution and foreign contributions.
Domestic Contributions
Currently, there are no limits on individual contributions or corporate contributions. However, corporate contribution are allowed from only non-government company, which is at least three year old,  and does not make total contribution in a year more than 7.5% of its average net profit of last three years. Such contribution must be authorized by a board of directors resolution.
Foreign Contributions
Till recently, there was a ban on foreign contribution to candidates and political parties. Foreign funding of political parties was banned under Section 3 of the Foreign Contribution (Regulation) Act, 2010. In April 2016, government amended the Foreign Contribution Regulation Act (FCRA), 2010 through the Finance Bill, 2016.
Implications of FCRA Amendments
The main objective of this amendment was to make way for the political parties to receive donations from foreign companies such as Vedanta as "Indian Source" despite of their being "foreign". All multinational corporations operating in India like IBM, Samsung, General Motors, etc. can finance parties.  This will be in addition to the donations by Indian corporate legal.
Rule about reporting
As per current rules, the companies need to show the amount contributed to political parties in their profit and loss statements with names of the party also. On the other hand, each political party is required to report all contributions above Rs. 20,000 received from any company or person to Election Commission every financial year. Further, the ECI has issued a set of transparency guidelines in August 2014 to be followed by all political parties.  The Law Commission of India, in its 255th report released recently also discussed the issue of election finance reform in detail.
Extent of Political Funding
The reliable data on political funding is not available in public domain because despite of frequent calls for greater transparency, the political parties have shied away from providing details about their funding. In September 2012, two NGOs had created a report in which it was claimed that between 2004 and 2011, the 23 political parties, including national and regional parties, had earned Rs. 4662 crore via donation and other sources. Of these, Congress stood at top with Rs. 2008 crore, followed by BJP at Rs. 994 crore.
Since rules ask the parties to show only those contributions which exceed Rs.20000/-; most of their funding sources are "unknown sources". The below graphics shows that political parties received Rs. 1130 crore in funding from "unknown sources" in 2014-15.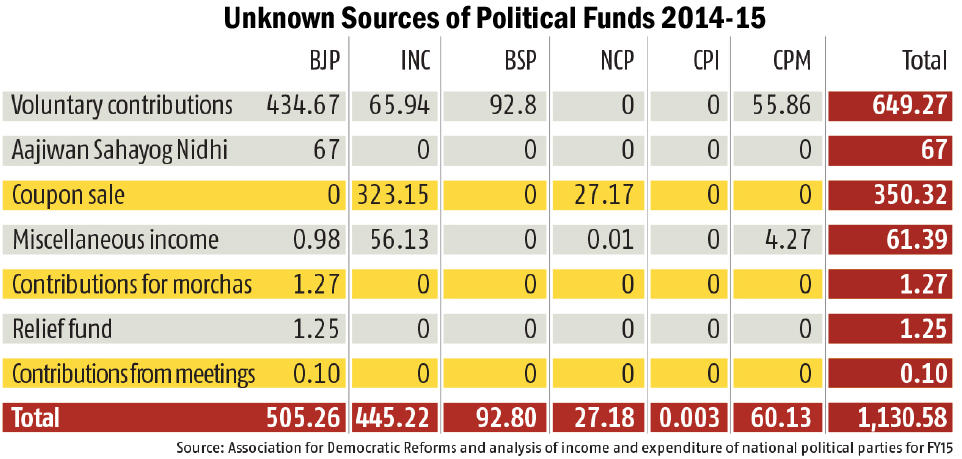 Similarly, around half of the total donations to major parties come from the donors whose details are not available in public domain. These details are only available when political parties file their return.
The biggest issue in transparency is that "most contributions" to political parties are below Rs. 20000 limit. If this limit is reviewed, it can bring greater transparency. Further, this funding by donations is only a fraction of their total income. Details of their income from remaining sources is still unavailable. Thus, there is a huge cover of secrecy and opaqueness in who gives them money.
Conclusion
The question of political funding in the country is inextricably linked to two major issues. Firstly, it is corruption and black money generation. It is an open secret that corporate take heavy loans from the public sector banks and then give part of this loan towards political party funding. As a standard practice, the companies show inflated value of equipments aboard and use this mechanism to create corpus of cash in tax havens abroad. Part of this fund comes back to India to fund political parties. So far, no substantial steps have been taken to bring overall transparency in political funding.
Secondly, the amendment of FCRA via Finance Act was called subversion of democracy. BJP and the Congress have supported the amendment but it has received criticism from some other parties and civil society groups which say that the parties have illegally received foreign funds from U.K.-based Vedanta Group from 2004 to 2012. The opponents say that this step will have an impact on the democratic system and impact on the political party system itself. There will direct intervention by MNCs in the political system and subvert the integrity of parliamentary democracy. Also, by this change, donations to NGOs by foreign companies will become legal. This will mar the FCRA which was meant to regulate the flow of foreign funds to various public activities with the aim of protecting the integrity and sovereignty of the country.  Critics state that, legalising of foreign company donations is an anti-national, anti-democratic step.
Notes
This above deals with the funding / income of the political parties.  There is an existing article in GKToday on expenditure of the political parties and election finance reforms here. Kindly read about State Funding of Elections here.
Exercise: Answer Writing for GS Mains
The recent declaration of National Political Parties of getting Rs. 102 crore in 2015-16 in donations of more than Rs. 20,000 seems troublesome to many as there are allegations that parties are deliberately avoiding complete disclosure of income source. This fact also manifests the immediate need to amend the Representation of People Act 1951 to lower the Rs. 20,000 limit. Do You Agree with the above argument. List reasons of your support/dissent.
Topics: Political Funding • Political parties
Latest E-Books