PM Modi launches Mission LiFE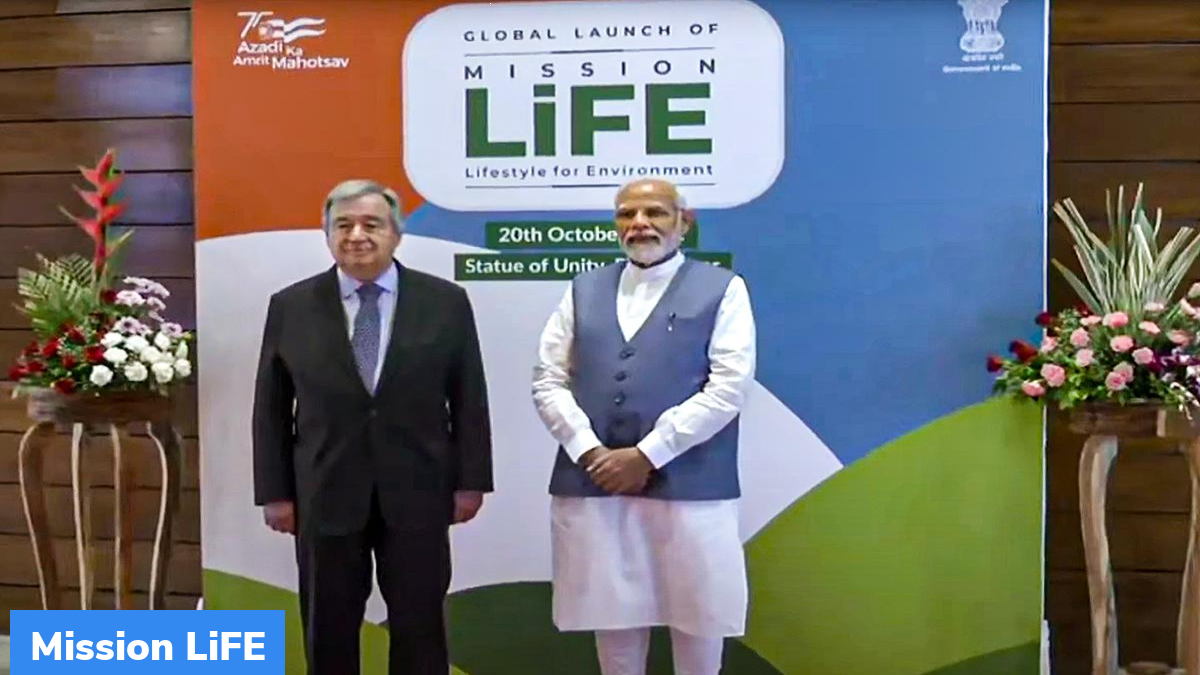 Prime Minister Modi launched Mission LiFE movement at the Statue of Unity in Gujarat.
Who conceptualized the idea of Mission LiFE?
NITI Aayog conceptualized the idea of Mission LiFE (Lifestyle for Environment).
What is Mission LiFE?
Mission LiFE was introduced by Prime Minister Modi at the COP26 in Glasgow in November 2021. It is an India-led global mass movement that will nudge individual and collective actions towards the protection and preservation of environment. It follows three pronged strategy to achieve this goal:
Promotion of environmental-friendly daily practices among people (demand)
Enable industries and markets to respond to the shift in demand (supply)
Influence government and industrial policy to support both sustainable consumption and production (policy).
The mission aims to mobilize at least 1 billion Indians and foreigners to take actions that will preserve the environment for the period between 2022 and 2027. It aims to make at least 80 per cent of all villages and urban local bodies in India environmentally friendly by 2028.
How will the Mission LiFE be implemented?
Mission LiFE will be implemented by making individual environmentally-friendly behaviour a mass movement. It will crowdsource empirical and scalable ideas that can be adopted by large number of people. It will also leverage local climate-friendly social norms and religious beliefs across the world.
What is the Indian Government's 75-point climate-friendly agenda?
As part of Mission LiFE (Lifestyle for Environment), the Indian Government unveiled a list of 75 lifestyle practices that can promote climate-friendly behavior. These actions are listed under 7 categories – energy saving, water saving, reduced use of single-use plastic, sustainable food systems, waste reduction (swachhata actions), adopting healthy lifestyle, and e-waste handling.
How sustainable is Mission LiFE?
Mission LiFE aims to nurture a global network of pro-planet people who will have a shared commitment towards adoption and promotion of environmentally friendly lifestyle. Its ultimate goal is to replace the current "use and dispose" economy with a circular economy through people's participation. Circular economy is a model of production and consumption that involves sharing, leasing, reusing, repairing, refurbishing and recycling existing materials and products as much as possible to minimize wastage and resource loss.
Month: Current Affairs - October, 2022
Category: India Nation & States Current Affairs
Topics: Circular economy • Environmental Sustainability • Mission LIFE • Sustainable Development
Latest E-Books