Former PM Atal Bihari Vajpayee and late educationist Madan Mohan Malviya chosen for Bharat Ratna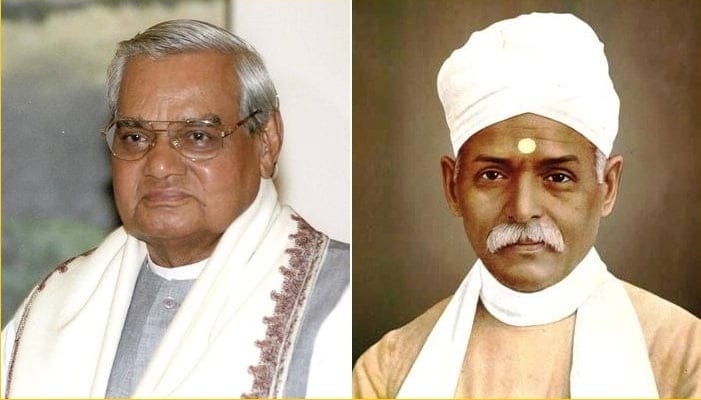 Former Prime Minister Atal Bihari Vajpayee and late educationist Madan Mohan Malviya (posthumously) have been chosen for Bharat Ratna- country's highest civilian award.
It was  announced by the press communique from Rashtrapati Bhavan.
Madan Mohan Malviya
He was born on December 25, 1861 and was an educationist and politician notable for his role in India's freedom struggle. He was popularly known 'Mahaman'.
He is founder of Asia's largest residential university – Banaras Hindu University.
 Malviya was 4 time President of Indian National Congress. He was president in 1909, 1918, 1932 and 1933.
He is also remembered for his stellar role in the Independence movement and his espousal of Hindu nationalism.
He is considered as one of the initial leaders of the right-wing Hindu Mahasabha and died in 1946.
Atal Bihari Vajpayee
He was born on 25th December 1924. He is an Indian statesman who was the 11th Prime Minister first for 13 days in 1996 and then from 1998 to 2004. Notably he is the first PM from outside the Congress party to serve a full five-year term.
He is amongst the founder members of erstwhile Bharatiya Jana Sangh which later became known as Bharatiya Janata Party (BJP).
He was parliamentarian for over 4 decades and was elected to the Lok Sabha for 9 times, and 2 to the Rajya Sabha.
He was also the Minister of External Affairs in the cabinet of Janta Government headed by Morarji Desai i.e. from 1977-79.
In 2009, he retired from active politics due to health concerns.
Recently, Union government had announced to observe his birthday  as Good Governance Day.
Bharat Ratna
It is India's highest civilian award given to citizens for their exceptional work for the advancement of art, literature and science, and public service.
In December 2011, government had changed the criteria for including sportsperson for this award thus added category for performance of highest order in any field of human endeavour.
It was instituted in the year 1954.
The recommendations for Bharat Ratna are made by the Prime Minister himself to the President. No formal recommendations for this are necessary.
The recipient receives a Sanad (certificate) signed by the President and a medallion. It does not carry any monetary grant.
Till date 45 people have been honoured with the Bharat Ratna since its inception (Including Madan Mohan Malviya and A. B. Vajpayee).
In February 2014, it was awarded to eminent scientist Prof C.N.R. Rao and cricketer Sachin Tendulkar.
Month: Current Affairs - December, 2014
Category: Awards, Persons & Places in News
Topics: Banaras Hindu University • Bharatiya Jana Sangh- Bharatiya Janata Party (BJP) • Madan Mohan Malviya and Atal Bihari Vajpayee awarded Bharat Ratna
Latest E-Books