'Operation Dudhi'- Key Facts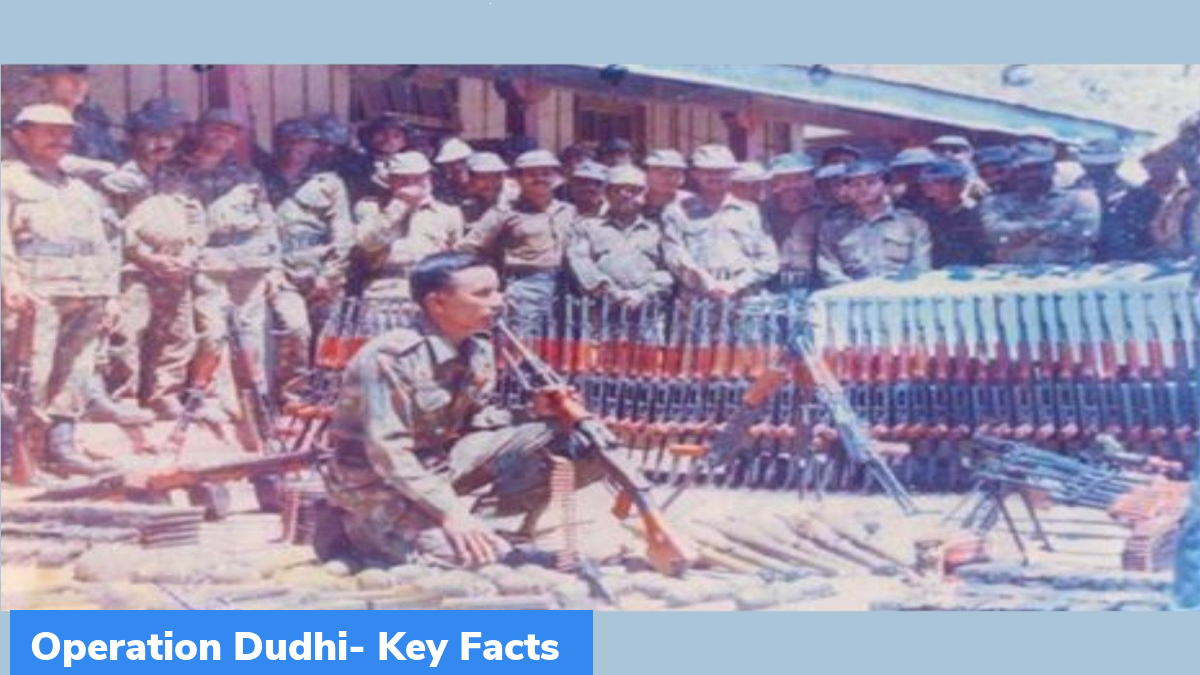 Recently, the surviving soldiers of Operation Dudhi were felicitated by Assam Rifles. In 1991, 72 militants were eliminated by the Assam Rifles in a single counter-insurgency operation that was conducted in Jammu & Kashmir.
What was Operation Dudhi?
This operation was undertaken by the Assam Rifles while it was in Jammu & Kashmir from the years 1990 to 1992.
A team of 15 soldiers gunned down 72 Pakistan-trained extremists.
This remains the most successful counter-insurgency operation that has been conducted by any security force till date.
The battalion had killed 72 militants and apprehended 13 others.
The column of the Assam Rifles had moved from Battalion Headquarters that was located in Chowkibal for a routine patrol. The patrol was conducted to check the Dudhi post that was vacated due to winter.
In the fierce firefight that took place till late night on the 5th and 6th May, soldiers Ram Kumar Arya and Kameshwer Prasad attained martyrdom. RK Yadav had sustained injuries during this mission.
When was Operation Dudhi conducted?
This operation was conducted on 3rd May 1991.
This mission was undertaken by a column that comprised a Junior Commissioned Officer (JCO) along with 14 other ranks under Naib Subedar Padam Bahadur Chhetri's command.
What were the soldiers equipped with?
The soldiers were only equipped with light machine guns as well as 7.62 mm self-loading rifles. The soldiers surrounded the enemy and then rained heavy fire at them.
How long did the battle last?
This battle between the soldiers and the militants lasted for over six hours until reinforcements arrived. The reinforcements consisted of:
three columns that comprised 1 JCO and 25 other ranks all under an officer with the major rank
35 other ranks were led by another Major rank officer
A medical corps team was also sent that was led by a Major rank medical officer.
What was seized from the militants?
For the next 4 days, search operations were carried out in the region. A huge cache of ammunition and weapons that included 70 AK-47 rifles were seized from the militants.
Month: Current Affairs - May, 2022
Category: Defence Current Affairs
Topics: Assam Rifles • counter-insurgency operation • Jammu & Kashmir • Operation Dudhi • Pakistan-trained extremists
Latest E-Books