November 16: National Press Day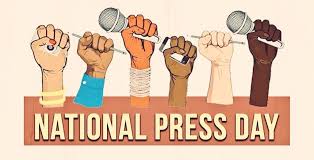 Every year the National Press Day is celebrated on November 16. This is because the Press Council of India was established on November 16, 1966. The Press Council of India acts as a moral Watchdog for media. Also, the Press Council of India makes sure that the freedom of press is not controlled by the threats or influence of other extraneous factors.
Highlights
In India, the celebration of National Press Day is considered as the symbol of free and responsible press in India.
Constitutional provisions
The Article 19 of the Constitution of India provides the right to freedom of speech and expression. However, the freedom of press is not specifically included in the article.
Violence against journalists in India
Between 1992 and 2018, 48 journalists have been killed in India.
Press freedom Index of India
According to the Global Press Freedom Index, 2020, that was released in April 2020, India ranked 140th out of 180 countries. The following were the performance analysis of India by the report
According to the report the main reason behind decline of India's performance was due to the pressure on media to agree the Nationalist Governments Hindu line. Several coordinated hate campaigns were waged against the journalist who spoke about subjects annoying the Hindutva followers.
There have been constant press freedom violations in India. This included ambushes by political activist, police violence against journalist and attacks instigated by corrupt local officials or criminal groups.
The World Press Freedom Index (or the Global Press Freedom Index) is being published since 2000 annually. It is published by the Reporters Sans Frontieres or Reporters without borders. It is an independent Non-Governmental Organisation. It has a consultative status with the UNESCO, United Nations and the International Organisation of Francophonie.
The NGO ranks the countries based on the parameters such as media independent, pluralism, media environment, legislative Framework, quality of infrastructure and transparency.
Month: Current Affairs - November, 2020
Category: Important Days & Events Current Affairs
Topics: Article 19 • Constitution of India • Freedom of speech • Global Press Freedom Index • Hindutva • Journalism • National Press Day • Press Council • Press Council of India • UNESCO • United Nations
Latest E-Books