Nepal's Political Dilemma: PM Oli got expelled from Party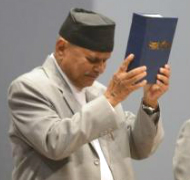 The Prime Minister of Nepal, KP Sharma Oli, has been expelled from the ruling Nepal Communist Party (NCP). He was expelled from the party following his decision to dissolve the Parliament. He was expelled from his party by a Central Committee at a meeting of the party's splinter group.
Highlights
The splinter group of the party was led by former Prime Ministers Pushpa Kamal Dahal and Madhav Kumar.
Both the members had earlier asked PM Oli to explanation for his unconstitutional decisions. They sent letter to seek clarification. But the PM Oli failed to do so.
Background
The Prime Minister Oli has recommended for the resolution of the Parliament on December 20, 2020. He took this decision after a tussle with former PM Pushpa Kamal Dahal Prachanda for power.
Following this the President of Nepal, Bidhya Devi Bhandari, had accepted the recommendations of the Prime Minister. And thus, the Parliament was dissolved.
The elections to the Parliament are now scheduled for April 30 and May 10, 2021.
Nepal Communist Party
It is the ruling political party in Nepal. The party is considered as the largest communist party in South Asia while the third largest in Asia. The party was founded on May 17, 2018. It was formed after the unification of two leftist parties namely the Communist Party of Nepal (Unified Marxist–Leninist) and Communist Party of Nepal (Maoist Centre). This party is the largest political party in House of Representatives and National Assembly. It is also the largest among all provincial assemblies except No. 2. Former Prime Minister of Nepal Pushpa Kamal Dahal is currently serving as the chairmen of the party alone after PM Oli has been expelled. Following the removal of PM Oli, the NCP has split into two divisions.
Month: Current Affairs - January, 2021
Category: International / World Current Affairs
Topics: KP Sharma Oli
Latest E-Books