National Farmers Day (Kisan Diwas) 2019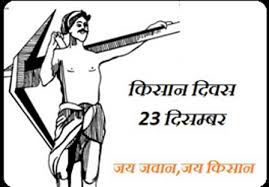 The National Famers Days or Kisan Diwas is celebrated every year in India on the 23rd of December. 23rd December was chosen to honour the birth anniversary of the fifth Prime Minister of India, Choudhary Charan Singh. Born on 23rd December 1902, the former Prime Minister was also known as a Kisan Leader and followed the slogan of 2nd Prime Minister of India, Lal Bahadur Shashtri's  'Jai Jawan Jai Kisan'. From pre-Independence to the post Independence era, Chaudhary Charan Singh played a pivotal role in the Agricultural Sector of India by drafting and enacting various bills for farmer's reforms.
The day is celebrated to promote awareness among the citizens of the country to understand the importance of the contributions of the farmers to the society and overall economic and social development of a country. By celebrating the National Farmers Day, the government also aims to encourage the farmers across the country by organizing various activities for farmers were the winners are rewarded with prizes.
Farmer's play the most important role as a backbone for India's economic development, as more than 40% of the total employment in India is employed in Agricultural Sector as per 2017 World Bank report, also over the years since 1947, Agricultural Sector has been the highest employment generating sector in India.
The citizens of the country should appreciate the hard work and also help the farmers at the time of their needs.
Topics: Choudhary Charan Singh • Kisan Diwas • Lal Bahadur Shashtri • National Farmers Day • Prime Minister of India
Latest E-Books