National Coaching Camp for Table Tennis approved by Sports Authority of India: Key Facts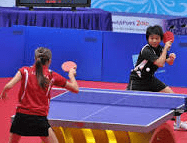 The SAI stands for Sports Authority of India. It has consented a national coaching camp for table tennis. It will be held from 28 October – 8 December 2020.
What is the fund allocated for the camp?
The National Coaching camp has been allowed at an estimated cost of Rs 18 lakh (plus air travel and medical expenses).
Who is organizing the camp?
The Table Tennis Federation of India has organized the camp at the Delhi Public School Sonepat
What is the composition of the camp?
The camp consists of 11 players (5 male, 6 female) and four support staff.
Sports Authority of India (SAI)
Where are the regional centres of SAI located?
The regional centres of SAI are located at Chandigarh, Haryana, Assam, Uttar Pradesh, Manipur, West Bengal, Madhya Pradesh, Karnataka, Maharashtra and Gujarat.
History of SAI
In the wake of independence, on 7th May 1961, the National Institute of Sports was build for the expansion of sports at the Motibagh Palace grounds in Patiala. On the 23rd January 1973, it was relabeled Netaji Subhas National Institute of Sports.
The Sports Authority of India derived with the committee established to host the 1982 Asian Games in New Delhi. On 25th January 1984, "Sports Authority of India" was formed as a recorded society by the Department of Sports, Ministry of Youth Affairs and Sports, Government of India. On 1 st May 1987, the Society for National Institute of Physical Education and Sports (SNIPES) was combined with SAI.
Promotional Schemes of SAI
National Sports Talent Contest Scheme
SAI National Sports Talent Contest Scheme (SAI NSTC) gives the school habitat to play and study for skilled 8-14 year olds who are at the right age for higher level training in competitive sports. The choice of trainees is done on the basis of performance and prospects, and they are accepted to schools on a non-residential basis.
The disciplines below SAI NSTC consist of:
Fourteen Regular schools with Eleven disciplines consist of Athletics, Basketball, Gymnastics,
Football, Hockey, Kho-Kho, Kabaddi, Swimming, Volleyball, Table Tennis and Wrestling.
Ten native Games & Martial Arts with nine disciplines consists of Archery, Kalaripayatu, Kabaddi,
Mukna, Silambam, Thang-Ta, Malkhamb, Khomlainai & Gatka.
Akharas for wrestling
Army Boys Sports Company
SAI Army Boys Sports Company is a programme run in partnership with the Indian Army to nourish and groom skilled boys in the age group of 8 – 14 years. These firms act as effective sports schools where training is scientifically confirm and support facility is given throughout the training period.
Objectives of this scheme include:
Nourishing budding talent
Enhancing the achievements tally in international sports contests.
Using the Army's outstanding infrastructure and disciplined directorial environment
Special Area Games Scheme
SAI Special Area Games are identical to STC, except that the heart of the SAG Centres is on famous local sports of India. The spotting and nourishing talent in particular disciplines in tribal, coastal and hilly areas, to brush them to gain excellence in the connected modern competitive games and sports.
SAI Training Centre Scheme:
SAI Training Centre Scheme (SAI STC) was accepted in 1995 by combining "Sports Project Development
Area Centre Sports Hostel Scheme
It is run in partnership with the State Government and Union Territory Administrations. The trainees are accepted into the scheme on residential and non-residential basis. They are funded by the government. The main objectives of the scheme are to:
Teach talented young players aged between 12–18 years (Sub-Junior/Junior)
Choose the players those who have achieved advanced levels of proficiency in sports.
Choose the players those who show natural potential in the Olympic disciplines, indigenous and other sports.
Provide training, in-house coaching and nutritional help to sportspersons.
Month: Current Affairs - October, 2020
Category: Sports Current Affairs
Topics: Government Schemes India • Sports Authority of India • sports schemes • Table tennis • Table Tennis Federation of India
Latest E-Books