Narayani River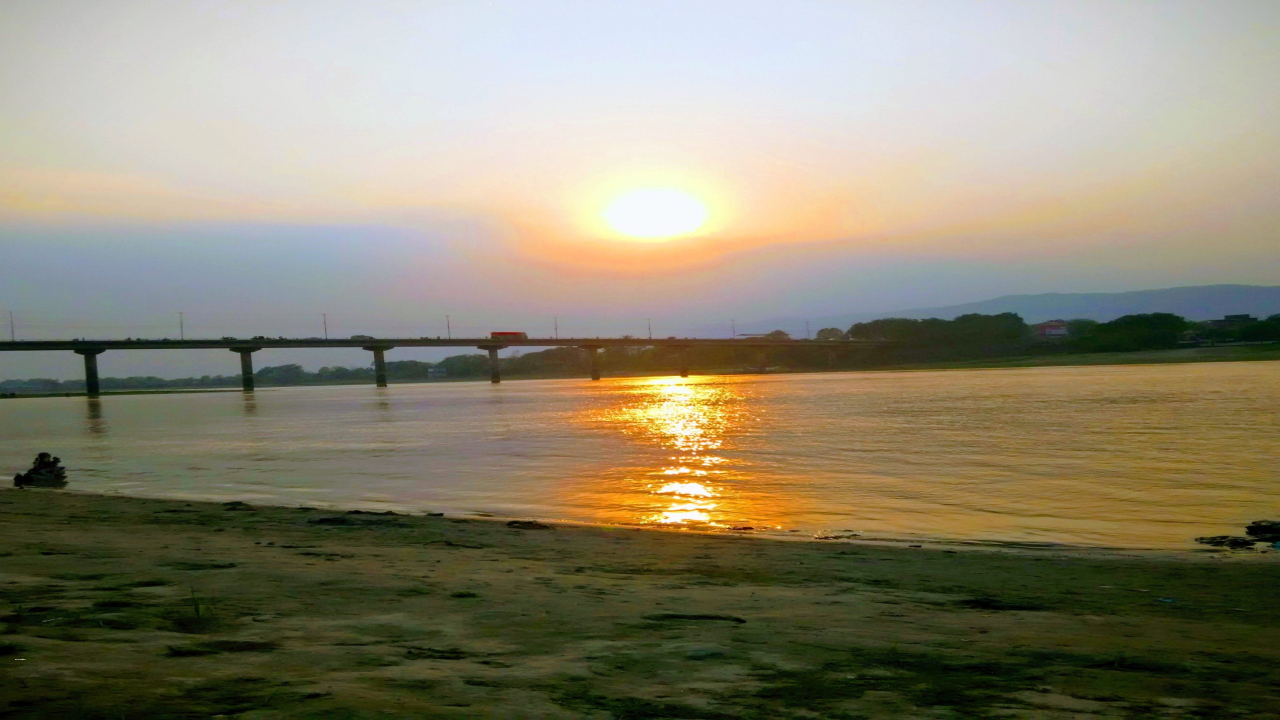 Namami Gange Program is a flagship program launched by the Government of India in 2014 to clean and rejuvenate the River Ganga. The program is aimed at reducing the pollution levels and restoring the ecological balance of the river. Under the Namami Gange Program, the development of river front on Narayani River in the district of Gopalganj, Bihar has been undertaken, and two Ghats have been constructed at a total cost of Rs. 6.62 crore.
Narayani River: A Left Bank Tributary of the Ganges
The Narayani River, also known as Gandaki River, is one of the major rivers in Nepal. It is a left bank tributary of the Ganges in India. The river's total catchment area amounts to 46,300 km2 (17,900 sq mi), most of it in Nepal. In the Nepal Himalayas, it is notable for its deep canyon. The basin also contains three mountains over 8,000 m (26,000 ft), namely Dhaulagiri, Manaslu, and Annapurna I. Dhaulagiri is the highest point of the Gandaki basin.
Course of Narayani River
The Kali Gandaki river source is at the border with Tibet at an elevation of 6,268 meters (20,564 ft) at the Nhubine Himal Glacier in the Mustang region of Nepal. The river then flows southwest through a sheer-sided, deep canyon before widening at the steel footbridge at Chele, where part of its flow funnels through a rock tunnel. In Kagbeni, a major tributary named Johng Khola, Kak Khola, or Krishnaa descends from Muktinath. The river then flows southward through a steep gorge known as the Kali Gandaki Gorge, or Andha Galchi, between the mountains Dhaulagiri and Annapurna I. If one measures the depth of a canyon by the difference between the river height and the heights of the highest peaks on either side, this gorge is the world's deepest.
National Waterway-37: Gandak River
The Gandak River, also known as the Narayani and the Gandak, was declared as National Waterway-37 from Bhaisalotan Barrage to Gandak and Ganga river confluence at Hajipur along with 111 NWs in the country vide National Waterways Act, 2016. Based on the findings of the study reports of Gandak River, the waterway was found feasible for the development of shipping and navigation. However, due to non-availability of potential cargo as well as very low navigational/vertical clearance due to the structure located across NW-37 i.e., Rewa Ghat Bridge, developmental activities initiated on the Gandak River (NW-37) have been kept in abeyance.
Month: Current Affairs - March, 2023
Category: Places in News Current Affairs
Topics: Gandak • Namami Ganga • Namami Gange • Narayani River • National Waterways • National Waterways Act 2016
Latest E-Books