Monoliths of Utah and Romania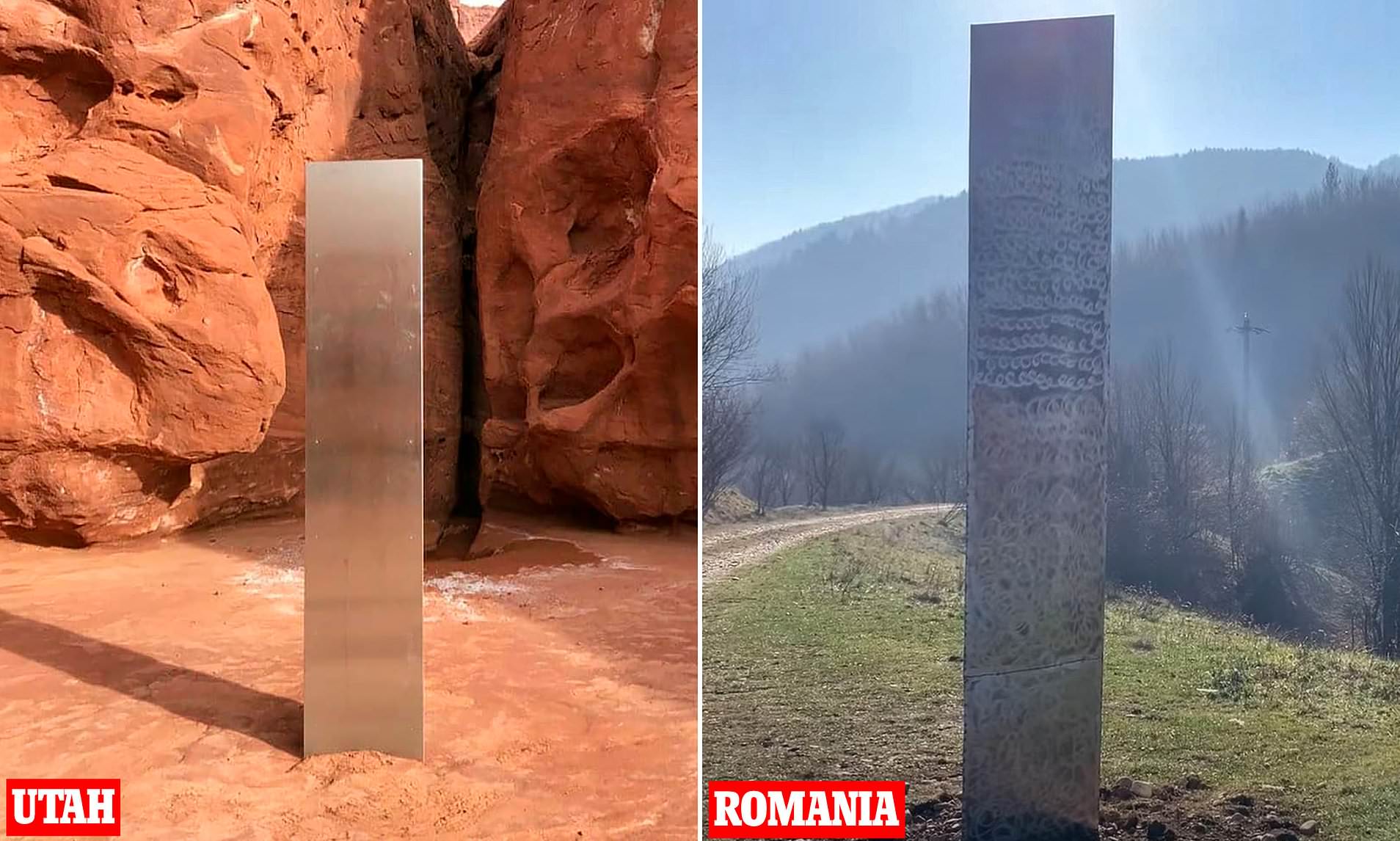 Monoliths are large single standing block of stone. A mysterious monolith was found recently in a remote, uninhabited desert in Utah, USA. And then disappear without a trace. Days after the occurrence and disappearance of the monolith, another monolith has been found in Romania.
Features of the Monolith in Romania
The newly found Monolith in Romania is 13 feet tall and faces Mt Ceahlau on one side.
The monolith has a mirrored surface.
It appears to have been covered with Graffiti. Graffiti is a writing on a wall or a public place.
It was found on the Batca Doamnei Hill in the northern Romania near a fort built by the ancient Dacian people between 82 BC and 106 AD
Dacian People
The Dacian people were the ancient inhabitants of the Dacia region located to the west of Black sea. It includes current day Ukraine, Hungary, Northern Bulgaria, southern Poland, Hungary. They are the sub-group of Thracian.
Features of the Monoliths in Utah
The Monolith in Utah was 9.5 feet tall.
It was made of metal sheets that were riveted together in the shape of a triangular prism.
It was installed in a red sandstone.
Monoliths in India
The following are the monolith structures in India
Bellary Fort in India: It was built by Hanumappa Nayaka of Vijayanagara Empire and the lower fort was built by Hyder Ali in later 18th
Bhongir or Bhuvanagiri: It is located in the state of Telangana. It was built by the Chalukya ruler Vikramaditya VI
Madhugiri: It is located in Tumkur, Karanataka. It was built by Raja Hire Gowda in 17th
Kailasa Temple, Ellora Caves, Maharashtra: It is the largest of the 34 Hindu, Buddhist or Jain temples and monasteries. Most of the temple was constructed by Rashtrakuta king Krishna I. Some other parts were built by Chalukya and Pallava.
Savandurga in Karanataka
Yana in Karnataka
Rockfort in Trichy, Tamil Nadu
Gilbert Hill of Mumbai
Month: Current Affairs - December, 2020
Category: Art & Culture Current Affairs
Topics: Architecture • Architecture of India • Black Sea • Buddhist architecture • Hindu temple architecture • monolith • Romania • Utah
Latest E-Books