Kambala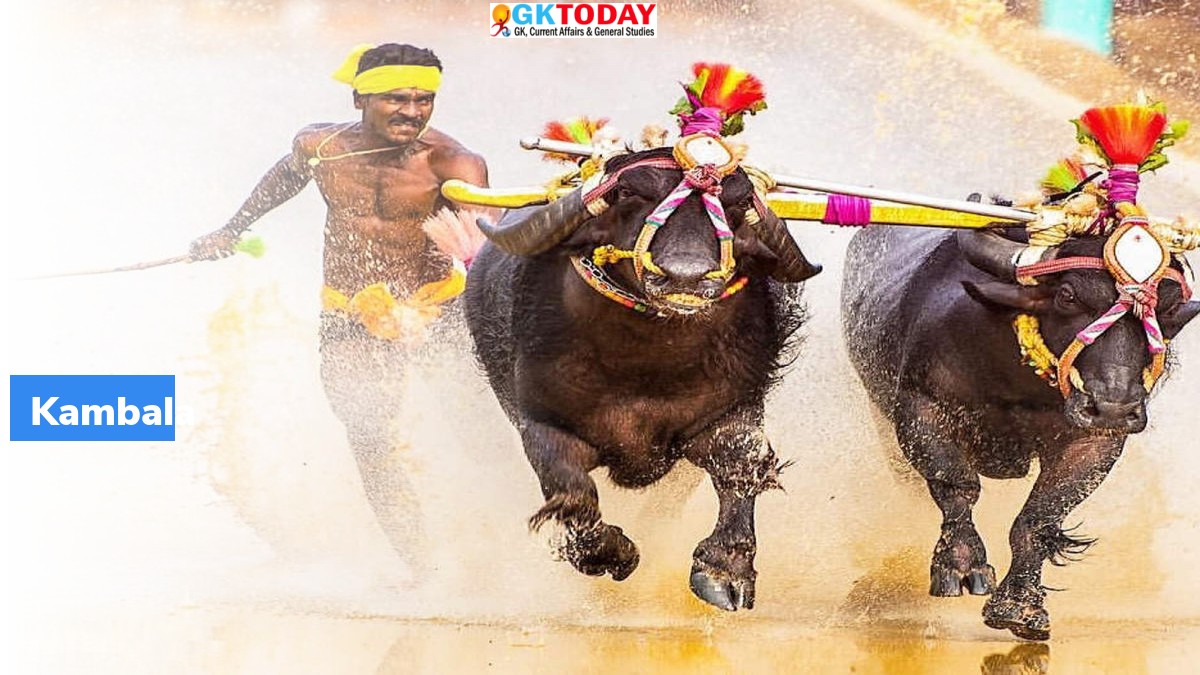 Kambala is an annual buffalo race. It is held in the state of Karnataka. It is sponsored by the households in the coastal districts of Dakshina Kannada and Tuluva Nadu.
What is Kambala festival?
The Kambala festival usually starts in the month of November and lasts till March. The race is organised through Kambala Samitis. The Kambala race is held in slusshy paddy field. The buffaloes of the race are driven by whip – lashing farmers. There was no competition in the traditional Kambala. However, in modern Kambala, the race is conducted between two pairs of buffaloes. Earlier, the winning buffaloes were rewarded with bananas and coconuts. However, today the winning buffaloes are awarded with silver and gold coins.
What are the types of Kambala?
There are six types of Kambala. They are Pookere Kambala, Arasu Kambala, Baare Kambala, Baale Kambala, Devere Kambala and Kori Kambala.
Kori Kambala: Agriculture based celebration
Baale Kambla: Discontinued before 900 years
What are the concerns raised against Kambala?
Many consider Kambala as cruel as the buffaloes are whipped to run fast during the race. In 2014, the Supreme Court banned Kambala. However, the ban was later lifted in 2017. The Prevention of Cruelty to Animals (Karnataka Amendment) Bill, 2018 legalized Kambala.
What is the meaning of the word "Kambala"?
The word Kambala is derived from "kampa – kala". The word Kampa means muddy field. And kala means field.
What is the Tuluva Nadu, where the Kambala is held?
Tuluva Nadu is a region in the south western coast of India. It comprises of Dakshina Kannadam Udupi districts and the Kasaragod district of Kerala. Historically the region lies between Gangavalli river and Chandragiri River. The people in the region are called Tuluva and they speak the Tulu language. The Tuluva Nadu is not an administrative entity. However, the Tulu Nadu movement has been gaining momentum since Indian States Reorganization Act, 1956.
Topics: Kambala
Latest E-Books