Ex ISRO Chairman A S Kiran Kumar conferred France's Highest Civilian Honour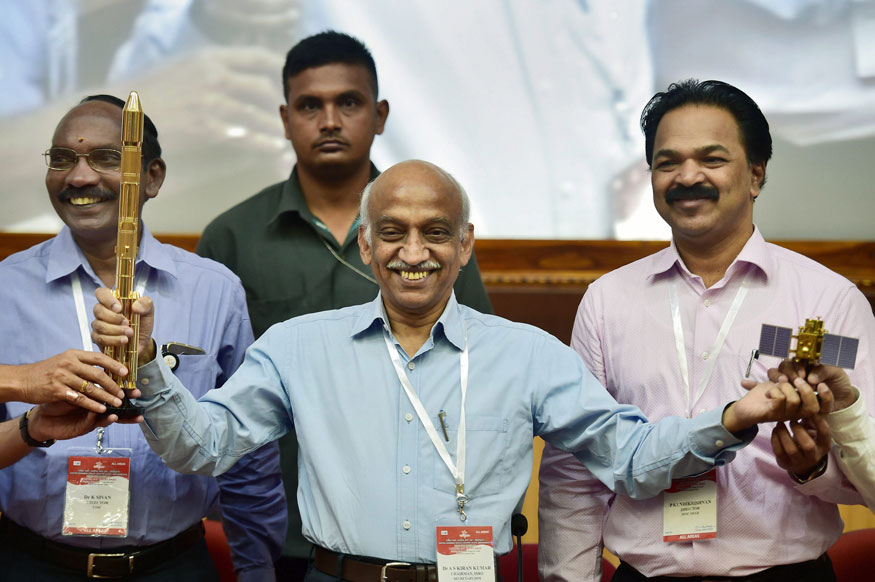 On 2 May 2019 former Indian Space Research Organisation (ISRO) chairman A S Kiran Kumar was awarded France's highest civilian honour 'Chevalier de l'Ordre national de la Legion d'Honneur' (or National Order of the Legion of Honour) by France's Ambassador to India Alexandre Ziegler on behalf of French President.
Importance
He was awarded for his invaluable contribution in fostering historic and ambitious space cooperation between India and France.
Throughout his tenure in ISRO office, he worked towards development of India-France ambitious space cooperation.
He significantly made direct contribution in making space cooperation a cooperation of the people and also one of cornerstones of Indo-French strategic partnership.
Chevalier de l'Ordre national de la Legion d'Honneur
It was established in 1802 by Napoleon Bonaparte and retained by all later French governments and regimes.
It is the highest civilian award conferred by France for outstanding service to nation, irrespective of recipient's nationality.
The President of the French Republic is Grand Master of the l'Ordre national de la Legion d'Honneur.
It is also highest French order of merit conferred for military and civil merits. The order is divided into five degrees. The Order in increasing distinction are namely, Chevalier (Knight), Officier (Officer), Commandeur (Commander), Grand Officier (Grand Officer) and Grand-Croix (Grand Cross).
AS Kiran Kumar
He served as 9th Chairman ISRO's from 2015 to 2018. He was succeeded by incumbent K Sivan (former Director of Vikram Sarabhai Space Center and Liquid Propulsion centre).
Achievements
He has represented ISRO at many international forums namely, World Meteorological Organisation (WMO) and Indo-US Joint Working Group on Civil Space Cooperation.
He currently serves as chairman of ISRO Committee on Earth Observation Satellites.
He major significant contributions to Indian space programmes, include designing and developing electro-optical image sensors used in India's first remote sensing satellite, Bhaskara which was launched in 1979, and credited with ocean colour instruments used in weather forecasting, sea zone and landscape mapping and telecommunications.
He contributed to design and development of imaging instruments for projects like INSAT–3D, Resourcesat, Micro Satellite and Cartosat.
He is also credited for his contribution in Terrain Mapping Camera and Hyperspectral Imager payloads of Chandrayaan-1 project.
Category: Awards, Persons & Places in News
Topics: AS Kiran Kumar • Cartosat • Chandrayaan-1 • Chevalier de l'Ordre national de la Legion d'Honneur • Earth observation satellites • France • India • India-France • INSAT–3D • ISRO • Napoleon Bonaparte • Resourcesat • Vikram Sarabhai Space Center • WMO • World Meteorological Organisation
Latest E-Books