Israeli PM's first official visit to UAE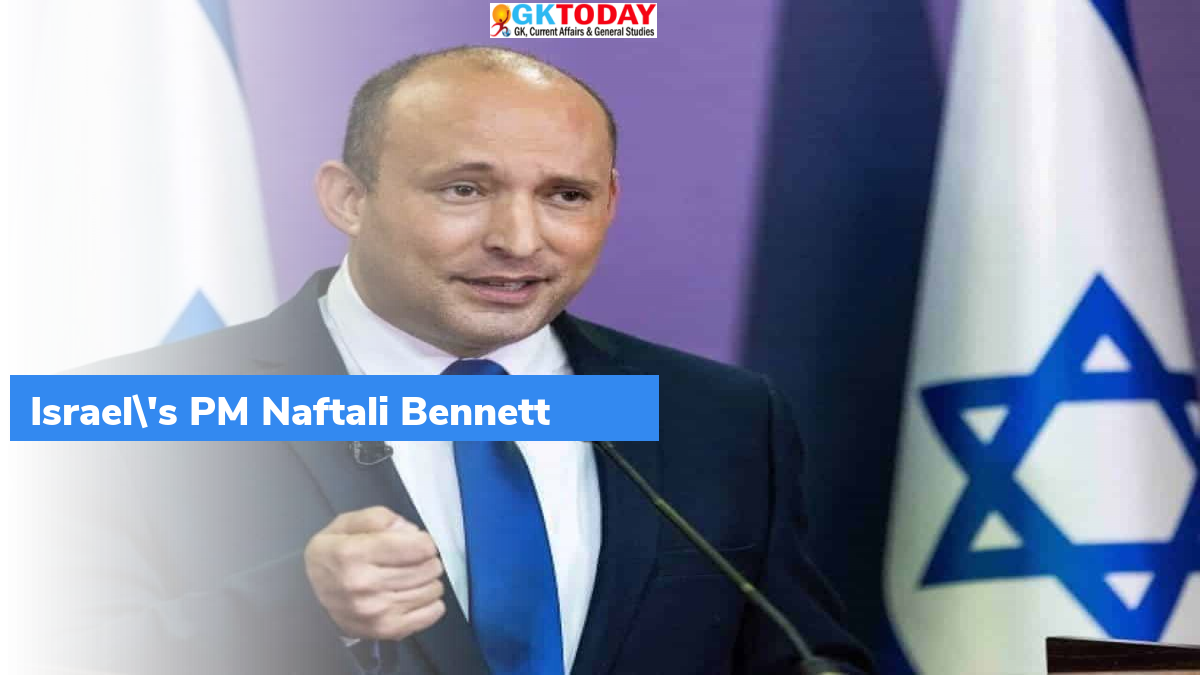 On December 12, 2021, Prime Minister Naftali Bennett started the first official visit by an Israeli leader to the United Arab Emirates (UAE) on order to strengthen Gulf ties at a time of heightened regional tension, as global powers try to revive nuclear deal with Iran.
Highlights
Naftali Bennett took office as the head of Israeli coalition government in June 2021.
He has planned to hold talks with the UAE's de facto leader, Crown Prince Sheikh Mohammed bin Zayed al-Nahyan.
This diplomatic outreach has come at the time when world powers are negotiating with Iran on 2015 nuclear deal, which is opposed by Israel.
The nuclear deal is also abandoned in 2018 by former U.S. President Donald Trump.
Ties of gulf countries with Israel
The UAE, followed by Bahrain, Sudan and Morocco, have been taking steps since August 2020 to normalise ties with Israel under a U.S.-sponsored initiative called "Abraham Accords". Bennett's trip to UAE is the first trip by an Israeli premier to any of those countries since Abraham Accords was signed.
Joint Comprehensive Plan of Action (JCPOA)
The Joint Comprehensive Plan of Action is commonly known as the Iran nuclear deal or Iran deal. It is an agreement on Iranian nuclear program which was signed on July 14, 2015 in Vienna. The deal was signed between Iran and the P5+1. Formal negotiations on JCPOA started with the adoption of Joint Plan of Action, which was an interim agreement between Iran and P5+1 countries, signed in November 2013.
Provisions of JCPOA
Under JCPOA, Iran had agreed:
To eliminate its stockpile of medium-enriched uranium
To cut down stockpile of low-enriched uranium by 98%
To reduce the number of gas centrifuges by two-thirds.
Under the agreement, Iran will only enrich uranium up to 3.67%, for next 15 years.
Iran also agreed not to construct any new heavy-water facilities for 15 years.
Iran's stand on the deal
Following the Baghdad Airport Airstrike in January 2020, which targeted and killed Iranian general Qassem Soleimani, Iran announced that it would no longer abide by the limitations of nuclear deal but would continue to coordinate with International Atomic Energy Agency (IAEA). Again, in December 2020, Iranian officials expressed their willingness to rejoin the deal, on the condition that, US officials make assurances to lift sanctions & rejoin the deal.
Month: Current Affairs - December, 2021
Category: International / World Current Affairs
Topics: Criticism of the Joint Comprehensive Plan of Action • Iran Nuclear Talks • Israeli PM's first official visit to UAE • Joint Comprehensive Plan of Action
Latest E-Books