IIT-M Ocean Wave Energy Converter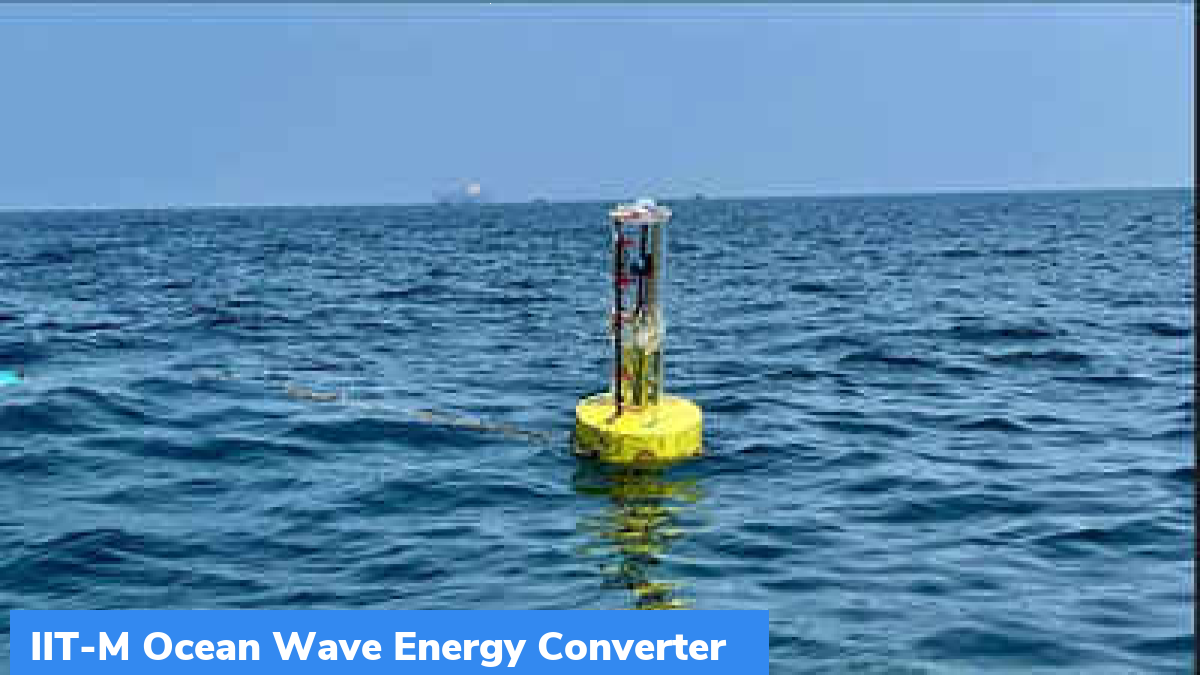 Researchers in IIT Madras have developed and deployed a system called Sindhuja-I that is capable of generating electricity using energy from sea waves. It was recently deployed some 6 km from the coast of Tuticorin in Tamil Nadu, where the sea's depth is around 20 meters.
What is Sindhuja-I?
Sindhuja-I is an ocean wave energy converter that is currently capable of producing 100 watts of electricity using energy from seawaves.
Its capacity is expected to be scaled up to 1 mW of energy in the next 3 years.
This system has a floating buoy, a spar and an electrical module.
The buoy moves up and down as the sea waves oscillate. A hole in the centre of the buoy will allow the spar to pass through it.
The spar is fixed to the seafloor so that it is prevented from being moved by sea waves.
This ensures that the buoy moves and the spar doesn't. This results in the production of a relative motion between spar and buoy.
The power is produced by an electric generator using the relative motion between the spar and buoy.
What are the limitations of the ocean wave energy converter?
The amount of energy generated from the ocean wave energy converter differs based on the wave height and seasonal changes. While it does not matter if the energy is not produced when the weather is calm, there are concerns regarding the technology's endurance during rough weather.
Therefore, the Sindhuja-I was tested in November 2022 when the India Meteorological Department (IMD) issued a red alert for several districts in Tamil Nadu. The testing revealed that the system was capable of withstanding challenging weather conditions.
Currently, no device is using power generated by Sindhuja-I as it is still in its nascent stage. Researchers are planning to further test the system to solve the problems related to power fluctuations caused by weather events.
Also, it is cheaper to power a city like Chennai or small part of it using conventional energy than ocean wave power. However, the new technology provides an economical solution for island and offshore locations since the cost of transporting power over the sea is high.
Month: Current Affairs - December, 2022
Category: Science & Technology Current Affairs
Topics: IIT-Madras • Indian institute of technology • Indian Institute of Technology (IIT) • Renewable energy resources • Renewable Energy Sector
Latest E-Books