Himachal Day: April 15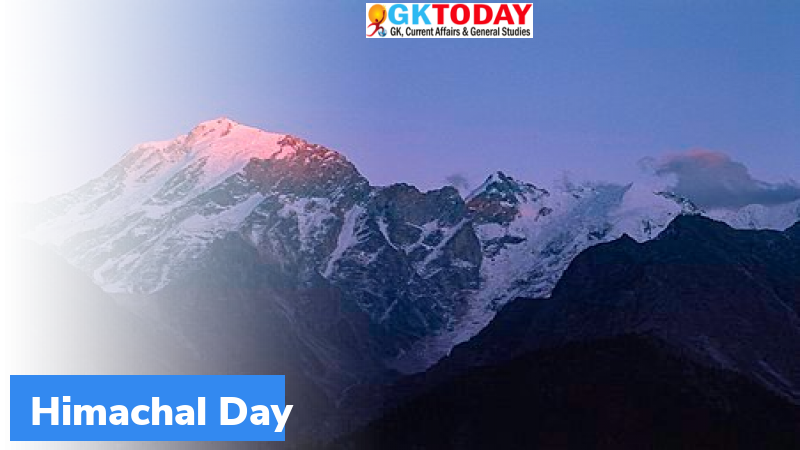 Every year, the state of Himachal Pradesh celebrates Himachal Day on April 15. The day is celebrated to commemorate the creation of Himachal Pradesh.
Himachal Day
On April 15, 1948, Himachal Pradesh was formed as the province to be administered Chief Commissioner. Later, it was made a "C" category state on January 25, 1950.
Three main types of States
The 1950 Constitution distinguished three main types of states. They were as follows:
Part A states: They were the former provinces of British India. They were ruled by the governors appointed by the president. Nine states belonged to this category. They were Bihar, Bombay, Assam, Madhya Pradesh, Orissa, Madras, Punjab, West Bengal and Uttar Pradesh.
Part B states: They were the former princely states. They were governed by Rajpramukh. The system of Rajpramukh existed in India between 1947 and 1956. The Rajpramukh was appointed by the President of India. They were Jammu and Kashmir, Hyderabad, Mysore, Madhya Pradesh, East Punjab States Union, Rajasthan, Saurashtra and Travancore.
Part C states: These states included both the former chief commissioners' provinces and the princely states. Part C states were Bhopal, Ajmer, Bilaspur, Delhi, Coorg, Cutch, Himachal Pradesh, Tripura and Vindhya Pradesh.
Formation of Himachal Pradesh
Till 1956, Himachal Pradesh was a C category state. In 1956, it was declared as a Union Territory. Later in 1970, Parliament passed the Himachal Pradesh Act. Since then, Himachal Pradesh came into existence as a full-fledged state. The official recognition of Himachal Pradesh as a state was provided on January 25, 1971.
About Himachal Pradesh
Himachal means "Snow covered area". The official language of Himachal Pradesh is Hindi and Sanskrit.
Month: Current Affairs - April, 2021
Category: India Nation & States Current Affairs • States Current Affairs
Topics: British India • Constitution • Governor • Himachal Day • Himachal Pradesh • President • Princely States
Latest E-Books