Gujarat and Rajasthan Emerge as Top Investment Destinations in India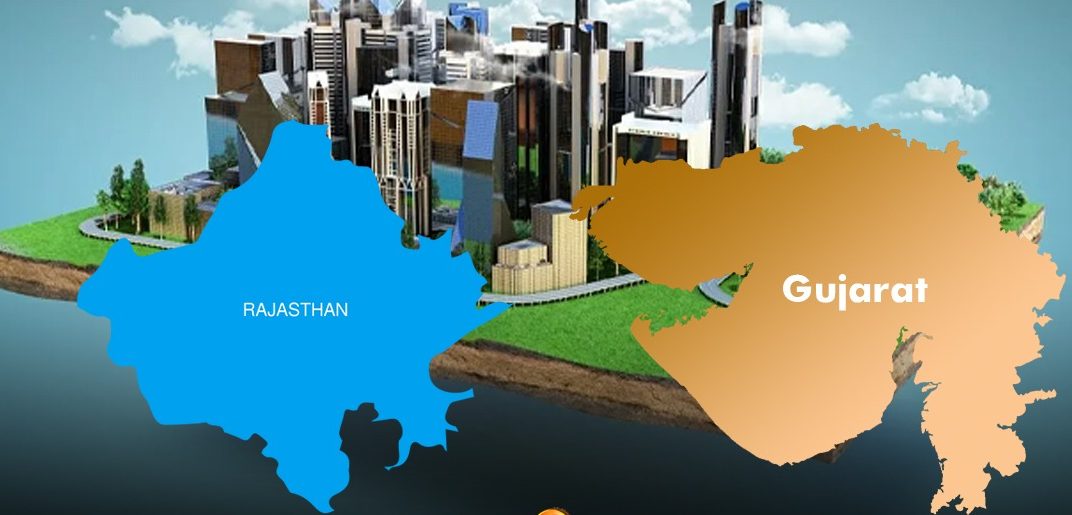 According to data from the Centre for Monitoring Indian Economy (CMIE), Gujarat has surpassed all other Indian states in attracting new investments from both domestic and foreign corporations. Fresh investments worth Rs 3.98 trillion were announced for Gujarat during the financial year (FY) 2022, representing a 273 percent increase over the FY 2021 figure of Rs 2.91 trillion.
Rajasthan, on the other hand, emerged as the second most attractive destination for investments in India in FY 2022. Interestingly, the state witnessed the highest rate of growth during the period, soaring by almost 535 percent and attracting new investments worth Rs 2.37 trillion.
In this article, we will discuss why these two states are the leading investment destinations in India.
Why Gujarat is an Ideal Investment Destination?
Gujarat is India's top industrial state in terms of manufacturing capacity, investment opportunities, and operational special economic zones.
Gujarat is the second-largest producer of crude oil (onshore) and the fourth largest producer of natural gas, and it hosts the world's largest petroleum refining hub at Jamnagar district.
Gujarat's Gross State Domestic Product (GSDP) which reached USD260 billion in FY 2022 and showed a 7 percent year-over-year (y-o-y) growth rate, is anticipated to reach USD280 billion in FY 2023.
Gujarat has 42 ports, comprising one major port and 41 non-major ports in terms of logistics and connectivity.
Gujarat is an ideal investment destination due to its industrial and investment-friendly policies and is one of the leading industrialized states in India. The state is recognized as an "Achiever" among the coastal states by DPIIT in Logistics Ease (LEADS 2022).
There are 21 operational Special Economic Zones (SEZs), with 26 SEZs having formal approvals, eight notified Special Investment Regions (SIR), and 202 industrial derivatives in Gujarat.
Gujarat is a leader in chemical manufacturing in India. The state has India's first Petroleum, Chemicals, and Petrochemicals Investment Region for the manufacturing of petroleum products, chemicals, and petrochemicals.
Gujarat is also producing a significant amount of green energy. In comparison to 7,541.5 megawatts (MW) in FY 2020, the state's operational capacity for producing electricity from wind energy sources currently stands at 8,561.8 MW.
To attract offshore financial market investors, India's first International Financial Services Centre (IFSC) has been set up in Gujarat International Finance Tec-City (GIFT City).
Why Rajasthan is an Ideal Investment Destination?
One of the main reasons for Rajasthan's attractiveness as an investment destination is its strategic location. As India's largest state by area, it borders five other significant Indian states: Punjab, Haryana, Uttar Pradesh, Madhya Pradesh, and Gujarat. Around 40 percent of the Indian market is accessible through this state's bordering states, and it also acts as a vital transportation link between the northern Indian states and the ports along India's western coast. This makes Rajasthan an ideal location for companies looking to expand their market reach in India.
Another factor that makes Rajasthan an attractive investment destination is its skilled workforce which has resulted in a large pool of skilled workers in various fields. This is particularly true for the service sector, which contributed around 45 percent of the state's gross value added (GVA) at current prices in FY 2021.
Rajasthan is also a major mineral producing state in India, with 82 major and minor minerals. The state produces more minerals than any other state in India, with limestone, copper ore, silver, rock phosphate, and gypsum being the top commodities.
The state has a diversified industry base, with leading industries such as Agri-processing, automotive, IT/ITES, petrochemicals, renewable energy, and textiles. More than 100 automotive and auto-component manufacturing units as well as about 850 factories in the food processing sector are located in the state.
The state's economic profile is also impressive, with its GSDP reaching Rs 11.96 trillion in FY 2022, up 11.06 percent y-o-y. The state's per-capita income was Rs 1,35,000 during that time. This economic growth has resulted in an increase in investment in the state, with companies such as Adani investing in Rajasthan.
According to data from Invest India, during the period from October 2019 to September 2022, Rajasthan received FDI inflows of USD1.88 billion. This indicates the growing interest of foreign investors in the state and its potential for further economic growth.
Month: Current Affairs - January, 2023
Category: Reports & Indexes Current Affairs • States Current Affairs
Topics: CMIE • Economic growth • FDI • Gujarat • Industry • Investment • Investment Destination • mineral production • Rajasthan • Skilled Workforce
Latest E-Books