Govt to work with RBI for Privatisation of Banks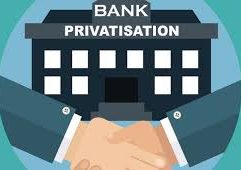 Recently the Union Finance Minister, Nirmala Sitharaman, while addressing the business leaders, chartered accountants and tax professionals in Mumbai stated that the central government will work with the Reserve Bank of India (RBI) to execute the plan of the privatization of the banks.
Highlights
The minister further said, the Centre have not made plan to form any bank investment company in order to house the government's bank holdings.
Background
The finance minister has announced about the privatisation of two banks recently while presenting the Union budget 2021.
This announcement was made under the Centre's disinvestment plan.
But the bank unions have opposed the plan.
Privatisation of Banks
The Central government is planning for the privatisation of more than half of the state-owned banks. The government is planning so in order to reduce the number of government-owned lenders to five. Currently, India has 12 state-owned banks. In the year 2019, government has also merged ten state-owned banks into four large banks.
Positives of Privatisation
The privatisation on banks is beneficial in understated manner:
It will help to address the bad loan and Non-Performing Assets issues.
It would also help in ensuring a better financial performance. It would comprise of a strong financial institution as a significant shareholder in the privatisation.
Privatisation will reduce the liabilities of the government.
It would also be helpful in reducing the fiscal deficit.
Privatisation will also finance the revenue expenditure by revenue receipts in long term.
It will bring in the environment of minimum government and maximum governance.
Negatives of Privatisation
However, the plan of privatisation is criticized for diluting the idea of inclusive banking which is practiced now. Inclusive banking was the guiding principle during the nationalization of banks. Further, government will face difficulties in providing low-cost financial services to rural and poor sections because, the private sector banks don't share the social responsibilities of the government.
Month: Current Affairs - February, 2021
Category: Environment Current Affairs
Topics: Bank Merger • Private Banks in India • Privatisation of Banks • Privatization • Public Sector Banks (PSBs) • Reserve Bank of India (RBI)
Latest E-Books