Global Innovation Index 2019
The World Intellectual Property Organisation (WIPO) released the Global Innovation Index (GII) 2019 report in New Delhi. GII rankings published annually by Cornell University, INSEAD, WIPO and GII Knowledge Partners (CII in India).
The index is based on more than 80 indicators exploring a broad vision of innovation, including political environment, education, infrastructure and business sophistication.
Rankings
Switzerland again topped the index, while Israel made its way into the top ten in the list.
India has climbed five notches on the Global Innovation Index (GII) this year to the 52nd position, from 57th last year.
India showed good performance in several critical economic indicators such as productivity growth and exports of services related to information and communication technologies, this year, India also grabbed the 15th spot in global companies' R&D expenditures.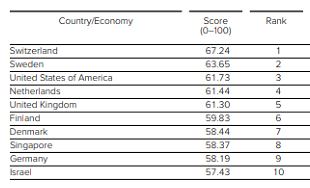 Observations made in the Report
Middle-income economies, especially in Asia, are increasingly contributing to global research and development (R&D) and international patenting rates via WIPO's International Patent System.
The public R&D expenditures, particularly in some high-income economies, are growing slowly or not growing at all. This is a cause of concern given the public sector's central role in funding basic R&D and blue-sky research, which are key to future innovations;
If left uncontained, increased protectionism poses risks as it will lead to a slowdown of growth in innovation productivity and diffusion across the globe;
Innovation inputs and outputs are still concentrated in very few economies. Divides also persist in how effectively economies obtain a return on their innovation investments. Some economies achieve more with less;
Most top science and technology clusters are in the U.S., China, and Germany, while Brazil, India, Iran, the Russian Federation, and Turkey also feature in the top 100 list.
The top five clusters: Tokyo-Yokohama (Japan); Shenzhen-Hong Kong, China (China); Seoul (Republic of Korea); Beijing (China); San Jose-San Francisco (U.S.).
It was for the first time that the GII has been launched in Asia or in an emerging economy.
Topics: INSEAD • israel • Switzerland • WIPO • World Intellectual Property Organisation
Latest E-Books