Finance Minister launches eBkray; an e-auction platform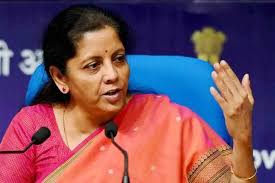 On December 29, 2019, Finance Minister Nirmala Sitaraman launched "eBkray" to enable online auction of assets owned by banks. eBkray is an online portal that will act as a common platform to buy and sell assets through auction.
Highlights
The platform has property search features. It also has navigational links to the auction sites that are run by state owned banks. The platform also provides property search and comparison features. It has videos and photographs of the uploaded properties. Till now, 35,000 properties have been uploaded on the platform.
Also, the launch of eBkray platform will help reduce the problem of information asymmetry of bank-attached assets. This will eventually increase the probability of the asset getting sold.
Significance of the portal
The recent Economic reforms carried out by the GoI have restored the health of banks. The Gross Non-Performing Assets (GNPA) in March 2018 according to Finance Ministry was 8.96 lakh crores. It got reduced to 7.27 lakh crores in September 2019. Though GNPA has reduced, it is still high and there is need to reduce them. This is because, according to the Financial Stability Report released by RBI the NPA ratio of banks is increasing. The report predicts that by September 2020 the NPA may rise to 9.9%.
Topics: Auction • eBkray • Financial stability • financial stability report • Non-performing loan • NPA • Online banking • Online payments
Latest E-Books