February 15: Bihar Shahid Diwas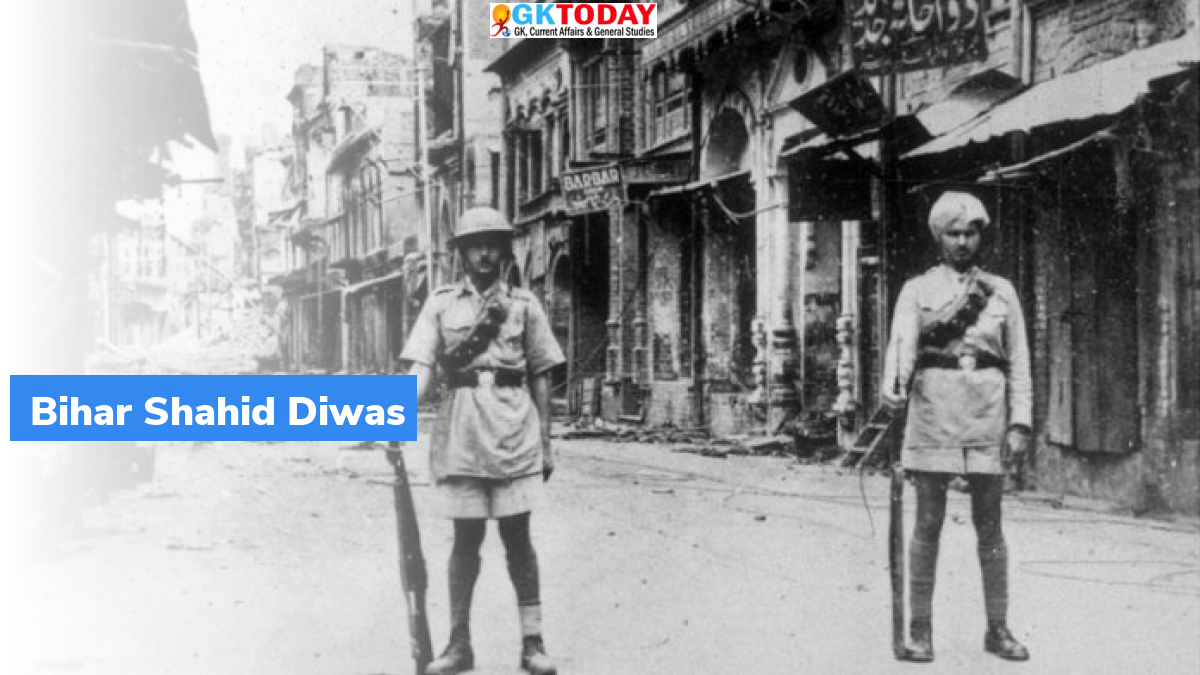 Recently, Chief Minister of Bihar Nitish Kumar announced that, February 15 would now be commemorated as "Shahid Diwas".
Key Points
February 15 would be commemorated as Shahid Diwas, in the honour of 34 freedom fighters who were killed by police 90 years ago, in Tarapur town in Munger district of Bihar.
These freedom fighters had never got their due, even though this was the biggest massacre carried out by the British police after Jallianwala Bagh in 1919 in Amritsar.
Prime Minister Narendra Modi had also referred to the Tarapur massacre in his January 2021 Mann ki Baat radio address.
About Tarapur Massacre
This incident took place on February 15, 1932, when a group of young freedom fighters had planned to hoist "Indian national flag" at Thana Bhavan in Tarapur. Police were not aware of their plan but several officers were present at the spot. During this, police carried out a brutal lathi charge on them. Despite the lathi charge, one of the freedom fighters (Gopal Singh) succeeded in raising the flag at Thana Bhavan. A strong crowd of 4,000 pelted the police with stones, in which an officer of civil administration was injured. In response, police opened indiscriminate fire on the crowd. Around 75 rounds were fired, after which 34 bodies were found at the spot.
Identified freedom fighter
Out of 34 dead, only 13 could be identified namely, Vishwanath Singh (Chhatrahar), Sheetal Chamar (Asarganj), Santa Pasi (Tarapur), Mahipal Singh (Ramchua), Jhonti Jha (Satkhariya), Sukul Sonar (Tarapur),  Singheshwar Rajhans (Bihma), Basant Dhanuk (Laudhia), Badri Mandal (Dhanpura),  Gaibi Singh (Maheshpur), Rameshwar Mandal (Padbhada), Chandi Mahto (Chorgaon) and Asharfi Mandal (Kastikri).
Centres of activity
There were two centres of activity for freedom fighters in Munger
Dhol Pahadi near Tarapur, and
Supaur-Jamua village in Sangrampur.
Recognition for freedom fighters
In 1967, MLA from Tarapur B N Prashant (during Bihar government led by Mahamaya Prasad Sinha) first sought recognition for these freedom fighters. But in 1984,  government of Chandrashekhar Singh dedicated 100 square feet land to construct a memorial in front of Thana Bhavan. He installed a marble plaque, comprising the names of identified freedom fighters.
Month: Current Affairs - February, 2022
Category: Art & Culture Current Affairs • Important Days & Events Current Affairs
Topics: Bihar • Bihar Shahid Diwas • Freedom fighters from Bihar • Jallianwala Bagh massacre • Munger • Tarapur Massacre • Tarapur Town
Latest E-Books