DRDO successfully test fires Akash-NG missile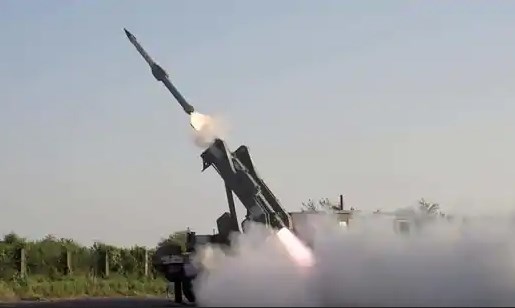 The Defence Research and Development Organisation (DRDO) has successfully test-fired the surface-to-air Akash-NG (New Generation) Missile off the Odisha coast. The missile can intercept the aerial threats. The missile has been launched in order to boost the Indian Air Force (IAF) defence system.
Akash-NG
Akash-NG is a medium-range mobile surface-to-air missile defense system.
It has been developed by the Defence Research and Development Organisation (DRDO).
The missile has been produced jointly by the Bharat Dynamics Limited (BDL) that developed the Missile Systems and the Bharat Electronics (BEL), Tata Power Strategic Engineering Division & Larsen & Toubro that developed the radars, control centers, launcher systems.
The missile has the capability of targeting the aircraft up to 50-60 km away at altitudes of 18,000 m.
The missile can neutralize the aerial targets such as the fighter jets, cruise missiles and air-to-surface missiles.
Missile is in operation with the Indian Army and the Indian Air Force.
It utilizes an integrated ramjet-rocket propulsion system. This propulsion system provides sustained thrust for the missile after initial rocket motor burnout until its interception.
In December 2020, the Cabinet Committee on Security chaired by Prime Minister Narendra Modi cleared the exports of Akash Missile defence system. Following that, the countries including the Philippines, Malaysia, Thailand, Belarus, UAE and Vietnam have shown their interest in Akash missile system.
Characteristic of Akash-NG
The Akash battery comprises of a single Rajendra 3D passive electronically scanned array radar or Simple the Rajendra Radar and four launchers with three missiles each. Each battery can track up to 64 targets and attack up to 12. It comprises of a 60 Kg high-explosive, pre-fragmented warhead. The missile is capable of protecting the moving convoy of vehicles. It provides air defence missile coverage for the area of 2,000 km².
Passive Electronically Scanned Array (PESA)
It is also called as the passive phased array. PESA is an antenna in which beam of radio waves can be electronically directed to point in different directions in which all the antenna elements are connected with the single transmitter. PESA is highly used in radars.
Month: Current Affairs - January, 2021
Category: Defence Current Affairs
Topics: Akash-NG Missile • Defence Research and Defence Organisation (DRDO) • Indian Air Force (IAF) • Indian Air Force (IAF) defence system • Passive Electronically Scanned Array (PESA)
Latest E-Books