Documentary Film Moti Bagh Earns Oscar Nominations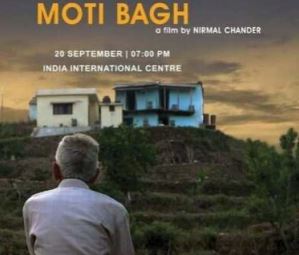 The Chief Minister of Uttarakhand congratulated the director of the documentary film Moti Bagh for Oscar Nominations.
Moti Bagh: A Movie about a Farmer in Uttarakhand
Moti Bagh is a documentary film based on the struggle of a farmer in a remote Himalayan village. The film unwraps the journey of Vidyadutt, a farmer living in the Pauri Garhwal region of Uttarakhand.
The documentary shows the struggles and challenges faced by the 83-year-old in keeping his farm alive and tilling the uninhabited hilly lands. The documentary throws light on the disturbing trends of migration as villages after villages are lying empty and there is a lack of manpower to till the land.
The film also highlights the plight and discrimination faced by the farmers from Nepal who have settled down in the region and their contribution towards food security of the state.
Key-Points
The documentary movie Moti Bagh is jointly produced by Doordarshan and Public Service Broadcasting Trust (PSBT).
The documentary is directed by Nirmal Chander Dandriyal.
The documentary film is in the Hindi language with a run-time of 60 minutes.
Earlier Laurels for India
Period. End of Sentence, which was inspired from the life and times of 'Padman' Arunachalam Muruganantham, a social activist from Tamil Nadu who introduced low-cost sanitary pads had won the Academy Award for Best Documentary (Short Subject) in the Oscar awards' 91st edition earlier in the year 2019.
Topics: Arunachalam Muruganantham • Garhwal • India • Moti • Padman • Uttarakhand
Latest E-Books