Cyclone Asani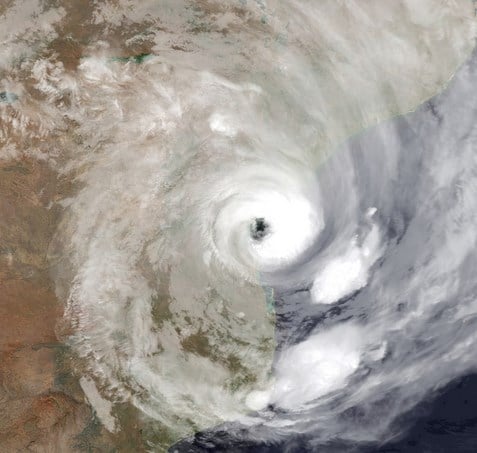 On May 9th the Indian Meteorological Department (IMD) said that the severe cyclonic storm 'Asani' is likely to weaken in the next 48 hours. Asani is the first cyclonic storm of the season.
Which country gave the name Asani?
Sri Lanka.
What is the meaning of Asani?
Asani means 'wrath' in Sinhalese (Srilankan language).
Where cyclone is situated and in what direction is it moving?
The cyclonic storm 'Asani' was situated about 680km in direction of the south-southeast of Puri and 580km from Visakhapatnam as of noon on May 9th.
It is moving northwest at a speed of 25km per hour in the Bay of Bengal towards coastal Andhra Pradesh and Odisha.
Where is the cyclone expected to move?
Cyclone Asani is expected to recurve north-northeastwards and move towards the northwest Bay of Bengal off the Odisha coast.
What will be the impact of the cyclone?
Light to moderate rainfall may occur from May 10th (Tuesday) evening in many districts across coastal Odisha and heavy rainfall (7 -11cm) at one or two places over Gajapati, Ganjam, and Puri.
How is the government prepared for the cyclone?
National and state disaster relief departments are on alert. Distant warning signal 2 (asking ships not to come near the coast) has been hoisted in all ports in Odisha.
What is a tropical cyclone?
Tropical cyclone is a low-pressure system formed over warm tropical waters.
Tropical cyclones can continue for many days, even weeks, and may follow quite erratic paths. A cyclone will dissipate once it moves over land or cooler oceans.
What are the favorable conditions for the formation of a tropical cyclone?
Sufficiently warm sea surface temperatures (at least 26.5 °C )
Atmospheric instability
High humidity in the lower to middle levels of the troposphere
Enough Coriolis force to develop a low-pressure center
A pre-existing low-level focus or disturbance
Low vertical wind shear.
What will be the name of the next cyclone in the North Indian ocean?
The cyclone that will form after Asani will be called Sitrang, and the name has been given by Thailand.
What are the upcoming names suggested by India?
Ghurni, Probaho, Jhar, and Murasu are the upcoming names from India.
Month: Current Affairs - May, 2022
Category: India Nation & States Current Affairs
Topics: Asani • Cyclone • Forecast • IMD • Sri lanka
Latest E-Books