Current Affairs – November 30, 2020 [Today's News Headlines]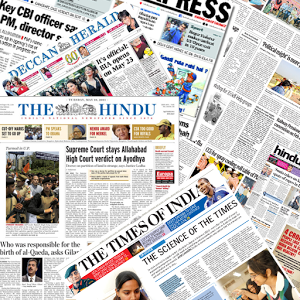 Here are Today's News Headlines for November 30, 2020
India
CSIR-CCMB approved to commercially use dry swab testing for COVID-19
CSIR is Council of Scientific and Industrial Research. CCMB is Centre for Cellular and Molecular Biology. The CSIR-CCMB has got permission to commercially use the dry swab RNA-extraction-free testing method for COVID-19 from the Indian Council of Medical Research (ICMR)
Indian Navy: Two Sea Guardian unarmed drones from the U.S. on lease
The Indian Navy has leased two unarmed drones MQ-9B from the US for one year. The Defence Acquisition Procedure (DAP) 2020 introduced an option for leasing military platforms.
GMRT, Pune accorded Milestone status by U.S.-based IEEE
The Giant Metrewave Radio Telescope (GMRT) has been selected as a 'Milestone' facility by the U.S.-based Institute of Electrical and Electronics Engineers (IEEE). It is an array of thirty parabolic radio telescopes of 45-metre diameter in Pune,
Economy & Corporate
Mission COVID Suraksha launched to accelerate COVID-19 vaccine development
The Government of India (GOI) launched Mission COVID Suraksha allocating Rs 900 crores. This was announced under the third stimulus package. This grant will be provided to the Department of Biotechnology (DBT) for Research & Development of Indian COVID-19 vaccines.
World
Nov 29: International Day of Solidarity with Palestinian People
The International Day of Solidarity with the Palestinian People was observed on November 29, 2020. The Assembly adopted the resolution on November 29, 1947.
EAM S. Jaishankar meets Seychelles' President in capital Victoria
External Affairs Minister S. Jaishankar met his Seychelles counter-part during his two-day visit to the key Indian Ocean nation. During the visit, he also met the newly-elected Indian-origin President Wavel Ramkalawan.
Hualong One: First domestically made nuclear reactor of China
China first domestically developed nuclear reactor, the Hualong One has begun its operations. The reactor, an generate 10 billion kilowatt-hours of electricity each year. It can cut carbon emissions by 8.16 million tonnes.
Operations in Tigray region complete: Ethiopian PM
Ethiopian Prime Minister Abiy Ahmed said that military operations in the northern Tigray region have been completed. He also announced that the federal troops had seized full control of the regional capital of Tigray.
Sports
Avinash Sable wins Airtel Delhi Half Marathon
Avinash Sable won the Airtel Delhi Half Marathon. He smashed the national record of 1:00:30 seconds. Ethiopia's Amedework Walelegn won the men's elite race in 58:53.
Australia beat India by 51 runs in 2nd ODI at Sydney
In the second ODI Australia (389-4 in 50 Overs) beat India (338-9 in 50 Overs) by 51 runs.
Month: Current Affairs - November, 2020
Category: Today's News Headlines
Topics: Current Affairs Headlines • Current Affairs: News Headlines • Headlines • Latest News Headlines • News Headlines • Top Headlines
Latest E-Books